Harvey, who contributed this article, is a keen trader of small-cap stocks listed on SGX, NYSE and Nasdaq.

FROM CHINATOWN to The Arcade at Collyer Quay, money-changers have been running out of the ringgit as it is selling like hot cakes.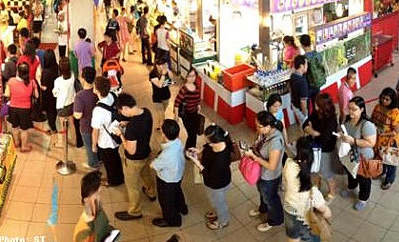 A queue at the money changer in People's Park Complex in Sept 2013. Photo: InternetPeople have been buying the ringgit as an investment, as the Singapore Dollar (SGD) has rocketed to a 15-year high against the ringgit. The exchange rate is currently RM2.60 per SGD, the strongest since 1998.
Rather than queuing to buy RM, I think it is more efficient (both physically and financially) to invest in a RM-denominated stock. I have done so in Supermax Corp.
Introduction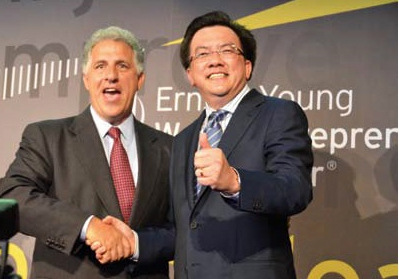 Supermax Executive Chairman-cum-Group MD Dato'Seri Stanley Thai (right) represented Malaysia at the Ernst & Young World Entrepreneur of the Year Award in Monte Carlo, Monaco in June,2011. Photo: Annual reportSupermax Corporation Berhad is a latex glove manufacturer listed on the Main Board of Bursa Malaysia Securities. Supermax was founded in 1987 as a trading business which distributed latex gloves.

In 1989, it ventured into Own Brand Manufacturing (OBM), becoming the first OBM latex glove manufacturer in Malaysia and launched its first brand, Supermax.
Since then, Supermax has developed a range of successful brands: Supermax, Aurelia, Maxter, Medic-Dent and Supergloves for use in laboratories, hospitals, pharmacists and medical practitioners around the world.
Supermax produces up to 16 billion pieces of gloves per year, approximately 11% of the world's demand, which are exported to approximately 145 countries.

It has 9 manufacturing plants and a research and development centre based in Malaysia.

Attractive developments:

1. Decrease in latex prices; least affected by electricity and gas costs hike

In the first 15 days of 2014, the price of latex decreased by 12% to RM4.75/kg (or a decrease of 23% year-on-year).

The decrease was contributed mainly by:

(1) the supply surplus for natural rubber, which is expected to increase in 2014 as rubber plantations in Thailand and Vietnam enter their mature phase; and
(2) Thailand's political turmoil, which has led to significantly fewer purchases and lower demand of natural rubber inventories by Thailand's manufacturers.

For these reasons, the seasonal uptrend in latex prices may remain weak in 2014. The price of latex is forecasted to be lower year-to-year.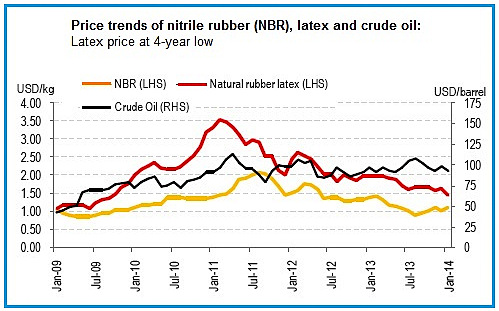 Source: Maybank IB Research January 2014
Malaysia implemented a 17% hike in electricity tariffs for industrial users in January 2014. Furthermore, a hike in the cost of gas is likely to be implemented later this year.

Glove manufacturers in Malaysia have raised their sales price by approximately 1% to pass on the hike in the cost of electricity to their customers.

The cost of gas accounts for approximately 5% of glove manufacturers' production cost. The effect of the proposed hike in the cost of gas will most likely impact the gross profit by approximately 2%.

As glove manufacturers' key cost is rubber (approximately 50% to 55% of total production costs), the lower cost of rubber this year will likely offset the increase in the cost of gas.

Therefore, glove manufacturers' gross profit will not likely to be adversely affected by the increase in cost of electricity and proposed increase in the cost of gas.

2. Weakening of emerging market currencies

Supermax stands to benefit from the weakening of the Malaysian Ringgit (RM) and Thai Baht (THB) as its sales prices are mainly denominated in US Dollars (USD), and its costs are primary denominated in RM and THB.

Emerging market currencies have been weakening against the USD, as investors continue to redirect their investments to the United States on the back of forecasted strong economic growth and Federal Reserve's proposed easing of quantitative program in 2014.

USD per RM has declined by approximately 8.19% during 2013. Supermax is expected to gain substantially from the weakening RM as foreign currency translation gain from its exports of gloves would be higher. This will translate into net margin improvement in 2013 and 2014.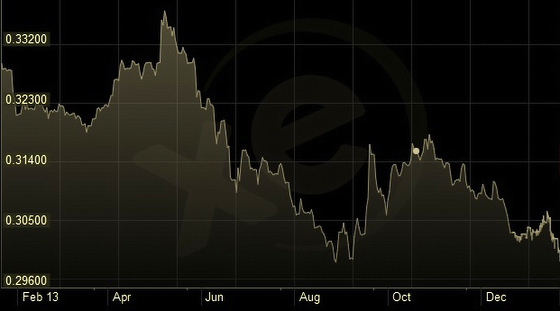 Exchange rate of USD per 1 RM in the past 12 months. Source: www.xe.com
3. Expansion to drive up manufacturing capacity
Supermax will be expanding its glove manufacturing capacity by constructing 2 new plants in Malaysia. They will have 24 and 16 production lines, which could produce 3.2 billion and 2.2 billion pieces of nitrile gloves, respectively.

The increase in the production capacity will approximately double the volume of nitrile gloves manufactured from 6.9 billion to 12.3 billion in 2014.
Supermax has also outlined its plan for two mega projects: Glove City and Supermax Business Park.

Glove City, which consist of 6 plants to produce 24.6 billion pieces of glove, will commence construction in the first half of 2015.

Supermax Business Park will be developed on a 100-acre piece of land in Serendah in the second half of 2014. An integrated glove manufacturing complex, this project is expected to be completed in 9 years and would provide an additional 40 production lines to manufacture 15.6 billion pieces of gloves.

4. Snapshot of financial and valuation metrics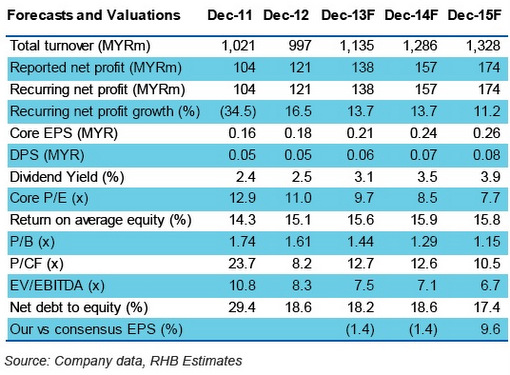 Conclusion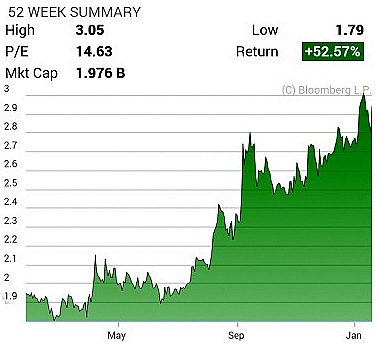 Supermax chart: BloombergSupermax is currently trading at steep discount of approximately 23% to its peers in the glove manufacturing business.

Therefore, it presents a good buying opportunity to invest in this sector, even though the share price of Supermax has increased by approximately 43% in 2013 due to Supermax's favourable results for 2013 and expansion plans on the horizon.

Related story: RIVERSTONE: Record 3Q profit, on track for all-time high full-year earnings