This article was recently published on Ernest Lim's blog and is reproduced with permission

ISOTeam – Defensive & recurring business
ISOTeam has a 15-year track record in Repair & Redecoration works ("R&R") and Addition & Alteration works ("A&A). It has undertaken over 200 R&R and A&A projects involving more than 1,500 buildings.

What's so interesting about ISOTeam?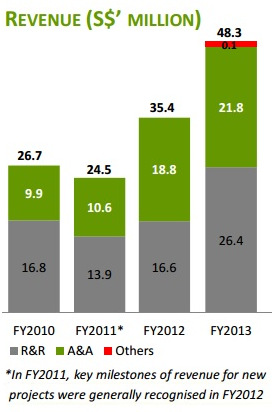 1. Recurring business (i.e. R&R) comprises approx 50% of revenue and gross profit

ISOTeam's R&R segment contributed approx 50% of FY12 & FY13 (ended June) revenue and gross profit (see table on the right).

This is comforting to investors as this segment is recurring in nature. It is also supported by government regulations.

Unless the Commissioner of Buildings approves otherwise, the exterior walls of buildings are mandated to be repainted at intervals of not more than five years. This creates recurring demand for ISOTeam's R&R business segment.

2. Strong order books amid regular contract wins
During its announcement of its FY13 results, ISOTeam mentioned that its order books as of 14 Aug 2013 stood at S$81.0m to be recognized over the next 24 months.

This order book took into account contract wins of S$10.9m which were announced on 14 Aug 2013.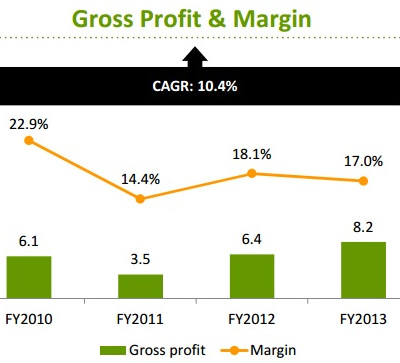 Considering that ISOTeam's FY13 revenue was around S$48m, this order book of S$81.0m to be recognized over the next 24 months provides earnings visibility for the next two years.

In addition, ISOTeam is the lowest bidder for several projects amounting to S$27.0m.
Subsequent to the FY13 results announcement, ISOTeam announced on 26 Oct 2013 that it had won S$19.0m new contracts.

Since its IPO on 12 July 2013, the company has announced ten contract wins amounting to S$29.9m.

3. More growth opportunities ahead
Firstly, there is scope for growth in new markets, new customer networks, new related businesses etc as ISOTeam may embark on potential acquisitions, joint ventures and / or strategic alliances.

Secondly, ISOTeam plans to diversify into the private sector by establishing a private home renovation arm to provide retrofitting services to customers living in landed properties.

For the above plans, based on its prospectus, ISOTeam has set aside S$2.5m of its IPO proceeds and has credit facilities of up to S$17.7m for potential business opportunities.

Thirdly, ISOTeam's industry continues to be buoyed by government initiatives and regulations.

For example, the National Environment Agency plans to construct ten new hawker centers by 2017.

The Land Transport Authority aims to construct 200 km of new sheltered linkways between 2014-2018. Also, land has been set aside to build 700,000 new homes by 2030 to cope with a target 6.9m population by then.

Fourthly, ISOTeam continues to gain entry into untapped sectors. According to its Annual Report 2013, ISOTeam became SKK's exclusive applicator for JTC industrial projects, army camps and HDB industrial projects since August 2013.

This is likely to open out a new chapter of growth for ISOTeam.

4. Dividend stock in the making?
ISOTeam has distributed a $0.01 dividend per share for FY13 which is equivalent to a payout ratio of approximately 20%.

Based on a UOB research report, ISOTeam's FY14F net profit is forecast to be around S$6.3m. Assuming that ISOTeam's dividend payout ratio remains the same, investors are likely to get $0.01 dividend per share which works out to a 2.6% dividend yield. There may be scope for increasing the dividend payout ratio in the years ahead.

Risks
1. Moratorium ends in January 2014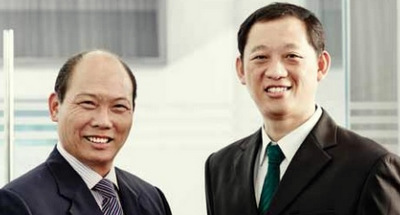 ISOTeam co-founders: Executive chairman David Ng (left) and CEO Anthony Koh. Photo: Annual reportAccording to ISOTeam's IPO prospectus, the moratorium for selling shares by its substantial shareholders, namely, ADD Investment, David Ng, Anthony Koh and Danny Foo, ends in January 2014. Their total direct and indirect stakes amount to 79.4m shares, or 67.6%, of ISOTeam's total outstanding shares.

It is noteworthy that ISOTeam share price is up a whopping 77% since its IPO at $0.220 in July 2013. Potential investors should take note of this, especially in view of its illiquidity.

2. Limited analyst coverage
Only UOB Kayhian covers ISOTeam. Its target price is S$0.550 (compared to its recent price of 39 cents). Most investors are still unfamiliar with ISOTeam. In addition, its small market capitalization of S$44m precludes some funds from taking a position in the company.

3. Illiquid and small market cap of S$44m
From ISOTeam's annual report 2013, one can see that the top twenty shareholders have about 89.6% of ISOTeam's outstanding shares. Thus, there is little free float outside which results in its illiquidity. Average 30-D and 100-D volumes were 588,000 shares and 842,000 shares respectively. This is not a liquid company where investors can enter or exit quickly.

4. Presence mainly in Spore - concentration risk
As ISOTeam's business exposure is solely in Singapore with the bulk of its revenue coming from the government, any adverse changes in the government's budget or policies on building maintenance and estate upgrading may affect ISOTeam.

ISOTeam chart analysis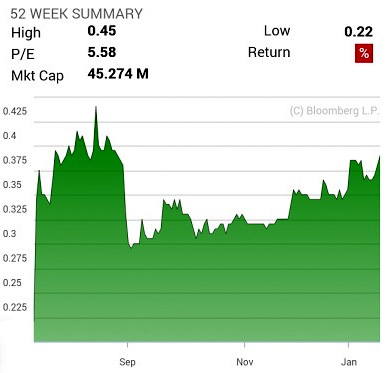 ISOTeam chart: BloombergStock has consolidated for 9 trading days before it gapped up on 16 Jan 2014. It closed at $0.390 on last Friday. Supports and resistances are as follows:
Supports: $0.365 - 0.375 / 0.345 – 0.355.
Resistances: $0.395 – 0.400 / 0.410 - 0.415 / 0.440 – 0.450
The chart seems to be on an uptrend and looks set to break $0.395- 0.400. Key resistances are around 0.410 - 0.415 / 0.440 – 0.450.

Conclusion – 1HFY14F results, potential contract wins or M&A may be re-rating catalysts
ISOTeam generated an adjusted FY13 net profit (less off the disposal gains of S$4.2m and add back S$1.1m in non-recurring IPO expenses) of around S$3.9m.

UOB KH estimates its FY14F net profit to be around S$6.3m, or a 62% increase in core profits. At S$6.3m, ISOTeam would be trading at around 7.3x FY14F PE. Any potential M&As or higher than expected contract wins may further boost ISOTeam's profitability.

Lastly, this is just an introduction to ISOTeam...
Readers who are interested should take a look at the company website http://isoteam.com.sg/