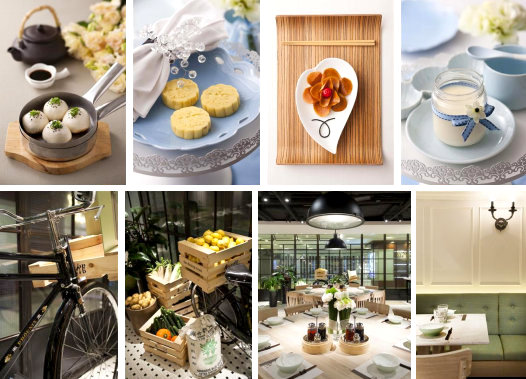 Xiao Nan Guo's "the dining room" offers authentic and affordable Shanghai fare.
Photos: Xiao Nan Guo

XIAO NAN GUO is bringing its Shanghai-style dim sum cuisine to South China for the first time with the launch of "the dining room" restaurant in Shenzhen.

Management met with investors on Friday to discuss the Hong Kong listco's growth strategy --- and sample some of its scrumptious fare, of course.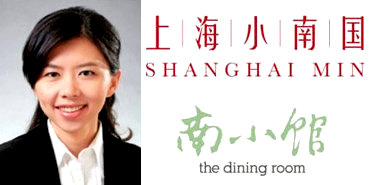 Xiao Nan Guo Vice President Ms. Leng Yijia said Shenzhen is a stepping stone for expansion of 'the dining room' restaurant chain across South China.     Photo: Xiao Nan GuoXiao Nan Guo's decision to lay its first Guangdong Province foothold in COCO Park, a bustling commercial nexus in Shenzhen popular with young shoppers and those with money to spend, is a sign the restaurant chain is keen on expanding business in the world's most populous country.

Xiao Nan Guo Restaurants Holdings Ltd (HK: 3666) Vice President Ms. Leng Yijia said: "'the dining room' at COCO Park marks our first entrance into the South China market through casual dining.

"Our second restaurant here is located at Shenzhen International Airport and will open by the end of this year as we continue to identify more suitable locations.

Speaking to investors and media at the company's recently-opened "the dining room" restaurant in downtown Shenzhen, she said the city's being a robust and modern metropolis offers the firm many expansion opportunities.

"The opening of 'the dining room' in Shenzhen represents our continuous investment and development in the South China region."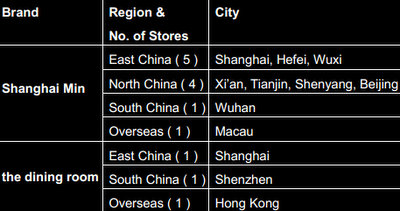 This year was a busy one for Xiao Nan Guo's expansion.
Source: CompanyPrior to joining Xiao Nan Guo in July 2010, Ms. Leng served as a legal manager, senior legal manager and legal director of Carrefour (China) Managing & Consulting Services.

Ms. Leng said the firm is building a standalone central kitchen in Shenzhen which will be in operation by end of December.

"All these efforts solidify our foundation and ensure operational efficiency in Shenzhen and the South China region as we continue to focus on our expansion strategy.

"Out of the 20 new stores planned for 2013, we have opened 14 new restaurants including 11 Shanghai Min restaurants and three 'the dining room' restaurants as of November 2013."

The "the dining room" concept was first launched in Hong Kong in June 2012.

And it didn't take long for new restaurants to start operating in the black.

"All 'the dining room' restaurants opened in Hong Kong and Shanghai generated operating profit during the first month of operation," Ms. Leng said.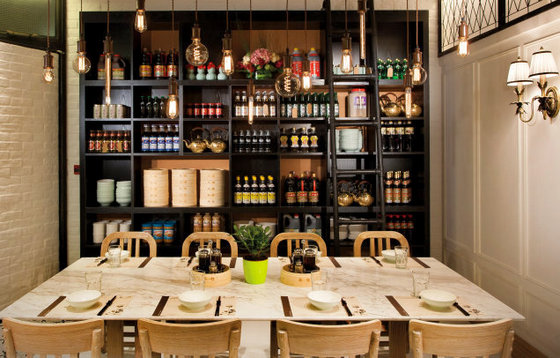 Xiao Nan Guo pays a great deal of attention to dining atmosphere.    Photo: Company

Ms. Leng, who holds a law degree from Temple University, added that -- at least for now -- diners would have to show up in person to truly enjoy the Shanghai Min and "the dining room."

"Our numerous small dishes are somewhat difficult to package up, so for the meantime we have no plans to offer a home delivery service."

She said the group adhered to a "hub and spoke" development strategy.

"Currently we have three main hubs located in Shanghai, Beijing and Hong Kong which service a cluster of restaurant locations in nearby cities.

"This allows us to derive greater economies of scale and ensure consistent quality of food through centralized food preparation, procurement and logistics functions at our central kitchens and central warehouses in each of these hubs."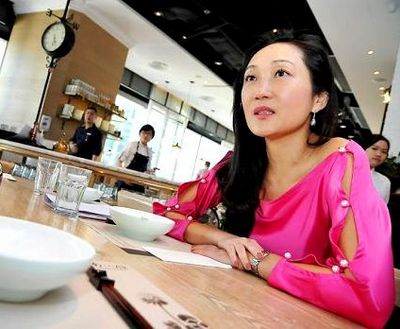 Ms. Louisa Wong, Xiao Nan Guo's Senior Director of Investor Communication & Relations, said the restaurant play remains relatively immune from economic slowdowns.    Photo: etnetJudging by the reaction of the assembled guests that day for the management presentation, there is little doubt that the authentic Shanghai delicacies offered by Xiao Nan Guo are best enjoyed within the company's casual yet refined dining atmospheres.

Shenzhen's first "the dining room" opened its doors to the public on November 6.

Continuing with its simple, modern-chic interior decoration, "the dining room" appeals to a mass young consumer market.

Ms. Louisa Wong, Xiao Nan Guo's Senior Director of Investor Communication & Relations, said both the flagship Shanghai Min restaurants as well as the smaller but steadily expanding "the dining room" eating establishments are well-poised to prosper, even if the overall economy isn't particularly cooperative.

"Of course there is some correlation to the health of the broader economy for our business, but we are more mass-market oriented and affordable, so we will always see a demand," Ms. Wong said.

Average per-person fares at Xiao Nan Guo's Shanghai Min restaurants is around 200 yuan, while at "the dining room," customers typically pay around 70 yuan.

As management discussed the company's expansion plans over a wide selection of Shanghai dishes, the vibe at the newly-opened "the dining room" restaurant in Shenzhen that day was decidedly bright, lighthearted and casual.

"That's by design as our management and staff are relatively young, and so are many of our clientele," Ms. Wong added.

The newly-opened "the dining room" restaurant in Shenzhen occupies approximately 300 square meters and offers seating for 140 guests, including 90 indoor and 50 outdoor seats.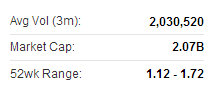 Xiao Nan Guo recently 1.40 hkdCOCO Park is situated in a prime commercial area of Shenzhen, close to the Shenzhen Convention & Exhibition Center, Shenzhen Stock Exchange, and Shopping Park metro station.

With its ideal location and its cuisine offerings, "the dining room" garnered a broad range of consumer attention within a short timeframe, and is rapidly increasing its popularity in Shenzhen, establishing a solid foundation for its future expansion in the region.

Through "the dining room" brand, the company's multi-brand strategy targets China's growing middle-income class and mass consumer market.

As the catering industry is facing headwinds, "the dining room" offers delicious and affordable mid-priced dishes that are well received and accepted by the general public that blends well with the company's strategy.

With a comparatively smaller fixed asset investment, smaller floor area, and simple menu, "the dining room" model can easily and rapidly replicated, and achieve operating profit.

Founded in 1987, Xiao Nan Guo Restaurants Holdings Ltd was listed on the Main Board of the Hong Kong Stock Exchange on July 4, 2012. Xiao Nan Guo is one of the leading, self-owned, mid-to-high-end, full-service restaurant chains headquartered in China. As of June 30, 2013, the Company operated six central kitchens and five central warehouses, serving a restaurant network of 69 Shanghai Min restaurants, four Maison De L"Hui restaurants and four "the dining room" restaurants in some of the most affluent and fastest-growing cities in Greater China, including Shanghai, Beijing, Dalian, Suzhou, Nanjing, Tianjin, Ningbo, Wuxi, Shenzhen, Hong Kong, Shijiazhuang, Changzhou and Xian.


---

See also:

S'PORE KITCHEN EQUIPMENT: High IPO Expenses But Priming For Growth