Turning Heads, Turning Profits: HYADERMIS, a beauty and skincare treatment product, is a growing business for SciVision. Photos: SciVision

SCIVISION BIOTECH INC (TT: 1786), a leading Taiwan-based surgical and medical instruments sector play, saw its revenue grow by double digits between January and October of this year.

Third quarter operating revenue remained stable on a year-on-year basis at 54.6 million twd with a July-September gross operating profit of 32.6 million.

The gross operating profit margin remained at a healthy 60%, with net profit over the three-month period coming in at 18.4 million twd – representing a net operating profit margin of 21%.

Earnings per share in the third quarter stood at 0.43 twd.

This compares to an EPS of 0.18 twd and 0.22 twd in the previous two quarters.

Third quarter earnings for SciVision have surpassed the combined earnings total for the first and second quarters.

SciVision's January-September revenue rose 20% year-on-year to 149.8 million twd.



SciVision makes a wide range of beauty products to cover any blemishes. Photo: SciVision

The Kaoshiung-based firm saw January-October revenue hit 170.1 million twd, up 15.6% from year-earlier levels and comfortably within double-digit territory.

SciVision specializes in Hyaluronic Acid (HA) medical and skincare products.

These include self-owned brands HYADERMIS – a facial dermal implant, and synovial fluid supplements HYADERMIS and HYAJOINT.

SciVision also markets anti-adhesion gels and wound healing dressings.

On the skincare products side, the firm's BIOTRICE series of products appeals to a growing attention in society to beauty and appearance.

The firm was already beginning to branch out into different areas, including HA nutritional food products such as its HYACARE glucosamine tablets.

SciVision is also expanding its reach into the development and production of food and cosmetic-grade HA raw materials and applied products, both on an OEM and ODM basis, as well as offering products used in parentage DNA testing.

SciVision – Taiwan's leading surgical and medical instruments sector play -- listed on Taipei's main board on November 12.



SciVision Biotech's HYAJOINT products are for those of us not ready to slow down in our later years. Photo: SciVision

The number twelve in Chinese culture has historical significance and is considered especially auspicious because it represents the number of animals in the traditional zodiac.

Therefore, SciVision's listing on the 12th day of the month coincided with its celebrating the firm's 12th birthday, and made for a very jubilant occasion for the Kaoshiung-based enterprise.

"Our listing doesn't only mean we now have full access to capital markets, but it is also the perfect birthday gift to present to our shareholders on this, our 12th anniversary as a company," said SciVision Chairman Mr. Han Kai-Cheng.

He said the firm would continue to lean on its own brands to maximize margins and boost market recognition.

"For the past dozen years, we have relied heavily on our own in-house, proprietary technology to drive our sales, profits and brand image.

"Looking forward, we will continue to lean heavily on our self-owned brands and technology to be Taiwan's top player in our field and aggressively pursue market opportunities around the world".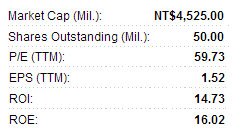 SciVision recently 84.30 twdManagement believes that following its IPO, SciVision is starting to get the attention it deserves from investors as a key player in Taiwan's biotech sector and the leading producer of a critical chemical used in both cosmetic and orthopedic surgery.

Prior to its formal listing last month, the specialty producer or medical grade HA was approved by Taiwan's Ministry of Economic Affairs to be the island's sole producer of its patented product, thus providing the Kaoshiung-based firm a key endorsement.

With the official approval as well as a mainboard listing to its credit, Scivision is confident that it will continue to enjoy strong upside from a growing number of consumers hoping to recapture their youthful appearance as well as others seeking to remedy joint issues.

Management added that given the growing beauty industry across the region and beyond as well as the ongoing graying of populations in Scivision's key markets with their tendency to seek out preventative and joint-issue treatments, investors were increasingly paying attention to the South Taiwan-based biotech firm.

The designation by both the Ministry of Economic Affairs and the Taiwan's stock market authority were key milestones in Scivision's quest to boost its profile in both the medical supplies sector and the investing community at large.

Management added that the successful high-profile listing, the dual recognition as a bona fide "technological enterprise" and the increasing attention Scivision is receiving from investors will help ensure even healthier financial results going forward.

SciVision Biotech Inc was founded alongside Kaohsiung Harbor in 2001. Based on a self-owned genetic transfer technique as well as high-tech equipment, SciVision successfully developed a non-traditional microbial fermentation technique to produce medical grade Hyaluronic Acid (HA) with high quality and high safety. In 2003 and 2009, SciVision was respectively awarded the "Leading Innovative Product Research and Development Program" by the Ministry of Economic Affairs, which affirmed SciVision as the leading company in the medical grade HA field. SciVision's products have passed intact assessments including in vivo, in vitro and clinical tests. Its factory complies with ISO 13485 & ISO 9001 quality management systems as well as medical device GMP. Hya-Joint Synovial Fluid Supplement and Hya-Dermis Facial Dermal Implants were approved with medical device export permits by the Department of Health, Executive Yuan and available for sale worldwide. Hya-Joint also received the medical device permit issued by the Department of Health, Executive Yuan and achieved the 2008 National Biotechnology and Medical Care Quality Award in the Medical Appliance Category. Now, this product is eligible for health insurance reimbursement to serve and care for Taiwan's people through the national medical-care system.


---

See also:

SCIVISON: Big Boost From Beauty, Bones Business

ASIAMEDIC: How It Will Win Clients For Its Cord Blood Bank Business