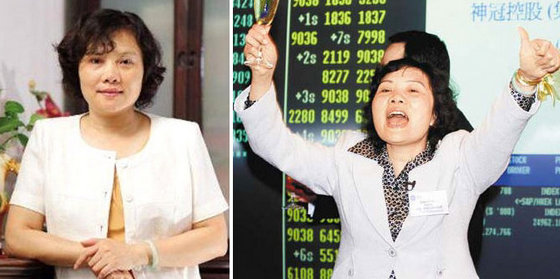 Ms. Zhou Yaxian is founder of HK-listed Shenguan Hldgs, China's top sausage casings firm, which enjoys a 90% domestic market share. Photos: 2500sz, oncc

MS. ZHOU YAXIAN, 52, with a net worth approaching a billion usd, is the founder of China's top sausage casing firm.

She is riding high as Hong Kong-listed Shenguan more than tripled its revenue in three years to 1.6 billion yuan.

China's historic shift from a majority rural to urban population these past few years, a rapidly rising middle class and a growing love affair with meats in the country have fueled sales of Shenguan Holdings Ltd (HK: 829), at which Ms. Zhou currently serves as chairperson and president.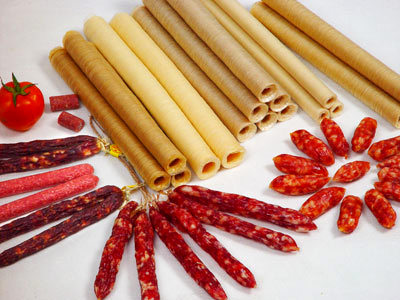 Shenguan's annual sausage casing capacity is enough to circle the globe 120 times. Sausage casings are man-made edible products derived from collagen proteins. Photo: ShenguanBorn in the rural Chinese province of Guangxi in 1959, Ms. Zhou began working at a food factory in her hometown of Wuzhou in 1979.

Thanks in part to her father being plant manager at Wuzhou Food Products Corp, the young Ms. Zhou was afforded the time – and materials – to come up with a novel ways of using collagen as edible sausage casings, all in the comfort of a local air raid shelter.

During the 1980s, China's disruptive Cultural Revolution was history and the country got back to the business of business – which coincided with a rapid rise in per capita pork consumption.

In other words, the twenty-something Ms. Zhou invented a novel way of casing sausages just as pork was becoming a staple for a growing segment of the population.

No Small Case

By 1989, at the age of 30, Ms. Zhou was confident enough in her mastery of the art of sausage casing technology to strike out on her own.

And that she did, founding Shenguan Holdings Ltd that year in her home province of Guangxi.

"At the time, I really didn't know much about the industry, and used the time that others were playing mahjong to study up on the trade," she told local media.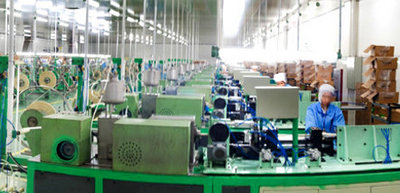 Shenguan has over 4,000 workers at its three plants in Southern China's Guangxi Province. Photo: ShenguanShenguan listed on Kong Kong's main board in October 2009 and at last check controlled around 90% of China's sausage casings market.

Today, the firm employs over 4,000 people.

At the time of Shenguan's founding, China was hardly on the cutting edge of food safety technology.

"I remember back in the late 1980s a foreign technician assessed the artificial sausage casing industry in China and determined that those consuming domestic varieties at the time were essentially signing their own death sentences.

"This gave me tremendous motivation to truly create a safe, high-quality, global-standard product," Ms. Zhou said in a local media interview.

In 2004, Ms. Zhou purchased Shenguan's predecessor and her previous employer -- Wuzhou Protein Factory -- with overseas Chinese partners from Malaysia and California who had won success selling casings to Malaysia and South America.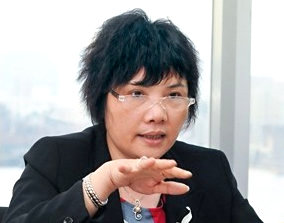 Ms. Zhou Yaxian, founder, president and chairperson of Shenguan, has a net worth approaching one billion usd. Photo: cladyShe is not only a senior engineer in biotechnology, but is also an experienced politician, having served as a member of the 10th National People's Congress from 2003 to 2008 -- a position which likely helps get the attention of large state-owned meat processors come casing contract time.

Ms. Zhou is also a director of Shenguan Biology Science & Technology Investment, Glories Site Ltd, Xian Sheng Ltd and Rich Top Future Ltd, all of which hold an interest in Shenguan's Hong Kong shares.

Shenguan counts among its major customers two of the PRC's top meat processors: Henan Shuanghui and Hong Kong-listed China Yurun Foods.

But Ms. Zhou's road to riches as king of sausage casings was not always straight and free of potholes.

"Back in the mid-1990s, there wasn't much of a domestic sausage casing industry and we couldn't even get middle managers at banks to meet with us for lending applications.

"I did sometimes contemplate giving up at the time," she said.

But she had a lot of help from her staff which helped inspire her to carry on.

"At the time, we were really short on cash and had great difficulty getting loans. What really moved me was that my employees volunteered to delay their wages for two months to allow my firm to survive.

"How could I give up after that?" Ms. Zhou said.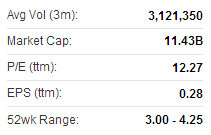 Shenguan recently 3.44 hkdShenguan's top customer Shuanghui ("Shineway" in English) recently made international headlines after the world's largest pork play – US-based Smithfield Foods – approved in September a plan to be bought out by Shuanghui for around 7.1 billion usd.

It will be the largest acquisition of a US firm by a Chinese company, and could pry open a major export market for Ms. Zhou's sausage casing firm.

Ms. Zhou and the firm she founded was the first PRC enterprise to obtain a patent in collagen sausage casings technology – an honor which has helped Shenguan Holdings become top dog in China's sausage sector.

In 2009, 2010, 2011 and 2012, Shenguan's revenue was 794 million yuan, 1.2 billion, 1.5 billion and 1.6 billion, respectively, representing an over 100% increase in just three years.

Shenguan's top market is still the PRC where it has three production bases in Wuzhou, Guangxi Province with a gross floor area of 800,400 square meters and an annual collagen sausage casing production capacity of over five billion meters, covering the production of over 50 styles of both Chinese and western style sausage casings.

Five billion meters is long enough to circle the world 120 times.



---
See also:

LUO QIANQIAN: Making Real Riches In Virtual Worlds

For more on Ms. Zhou Yaxian, see:

http://www.forbes.com/lists/2012/13/power-women-asia-12_Zhou-Yaxian_QE0Z.html

http://hongdou.gxnews.com.cn/viewthread.php?t=8631087

http://www.china-woman.com/rp/main?fid=open&fun=show_news&from=view&nid=76225