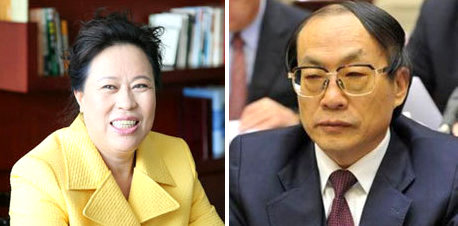 Ms. Ding Shumiao (left) and Mr Liu Zhijun allegedly pocketed billions of yuan in bribes related to the construction of China's massive high-speed rail system. Photo: xiamen.com

NEXTINSIGHT HAS recently been featuring tales of enterprising Chinese women who have made it to the apex of their sectors, amassing billions of yuan along the way.

But today's story is not meant to inspire or motivate.

Instead, the tale of the rise and fall of Ms. Ding Shumiao can serve as a reminder of sorts that fortunes which are ill got may eventually be undone in the end by relentless hunger for an ever heftier hoard.

Ms. Ding rose from humility as a street vendor to a multibillionaire.

Now the Shanxi railway baroness and her bribery-backed bilking lifestyle have finally derailed as she awaits trial for allegedly conspiring with a former railway bigwig on high-speed projects worth nearly 200 billion yuan.

Born in 1955 to a working class family in the Northern Chinese province of Shanxi – better known for its gritty mining towns – Ms. Ding earned her keep in the 1980s as a street vendor peddling eggs and other sundries.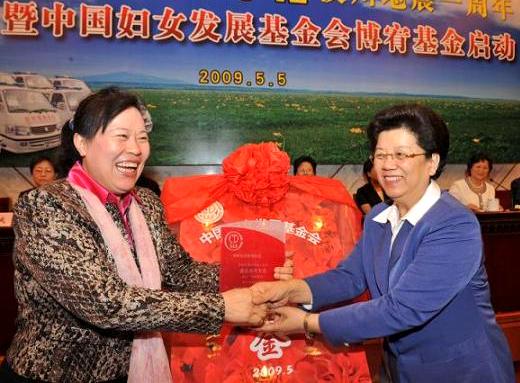 Cover Story: Ms. Ding Shumiao (left) presents a donation on the first anniversary of the tragic 2008 Sichuan earthquake. Photo: dailyreport

However, a chance meeting in the late 1990s with Liu Zhijun – then vice minister of China's railway bureau – turned out to be the beginning of Ms. Ding's meteoric rise to riches.

It also seems that the newly struck up acquaintance over a decade ago led Ms. Ding on a downward spiral of crime and corruption.

An acquaintance said of Ms. Ding in a local media piece last year that she seemed to have all the right ingredients to be a "go getter," or even "gold digger," adding that she was also a "typical woman of the central plains."

This may have played a role in both her uncanny charms and her ability to manipulate others.

"She was of a very commanding height for a woman – over 170 centimeters – but she had a very simple, honest and good-natured appearance," the acquaintance said.

Her upbringing also played a part in determining her destiny.

"She was very bold, frank and forthright. This probably comes from the fact that she lost her mother at an early age and was raised by her father."

Could having no mother figure in her life have made her look even more to older men in positions of power (a.k.a. her father, and later Mr. Liu) as security blankets and a secure livelihood?

Ms. Ding seized the opportunity of being in Mr. Liu's good graces to railroad her way into a position in the rail freight sector thanks to her ability to charm her powerful new friend.

She used her newfound persuasion to erect an unassailable sphere of influence in sectors ranging from railway equipment, TV and cinema production interests to hospitality gigs.

In short, then-vice minister Liu and Ms. Ding had concocted a very profitable, albeit highly unethical, business partnership.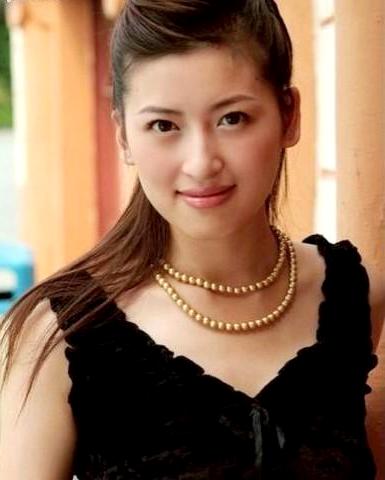 Auditors found a nebulous 100 million yuan payment from a large state-owned enterprise to Ms. Ding Shumiao's daughter, Ms. Hou Junxia (above). Photo: 21stCenturyIt involved Mr. Liu opening doors to various halls of power across the economy through which Ms. Ding would enter and then unleash her wiles to get contractor deals for the fast-growing high-speed rail network.

The motivated contractors would gladly express their appreciation for the deals (in the form of thick red envelopes) and Ms. Ding and Mr. Liu would share in the spoils, according to prosecutors.

By not reaching his own hand into the pockets of contractors and allowing a relatively silent partner to do his shadowy bidding for him, Mr. Liu was thus able to avoid suspicion by authorities for as long as he did.

"It allowed them to stack their illegal proceeds in the pocket of somebody else, but it was always at their own disposal whenever they needed," Dr Yan Yu, a Peking University expert on corruption, during a recent interview with Hong Kong media.

To grease the wheels of commerce, and keep the contracting conveyor belt humming along, Ms. Ding allegedly appealed to that age-old weakness of all men – women – to ensure that the pair's partnership continued into perpetuity.

Beginning around a decade ago – perhaps when Ms. Ding realized her advancing age no longer afforded her all the charms that youth bestows – she allegedly began arranging for a steady stream of sirens and starlets to keep Mr. Liu company.

One of the most startling examples came from an earlier report in the local media that she shelled out some 50 million yuan to produce a new television version of a Chinese classic novel: The Dream of the Red Mansion.

The report said that a major motivation for the project was to have a large gathering of comely actresses beholden to her – and reportedly also available to Mr. Liu for decidedly non-acting purposes.

However, all good shows – and scams -- must come to an end, and it now seems it's finally time for Ms. Ding to pay the piper.

Mr. Liu has been dealt a suspended death sentence after being found guilty of accepting some 64 million yuan in bribes (including 49 million from Ms. Ding) between 2008 and 2010.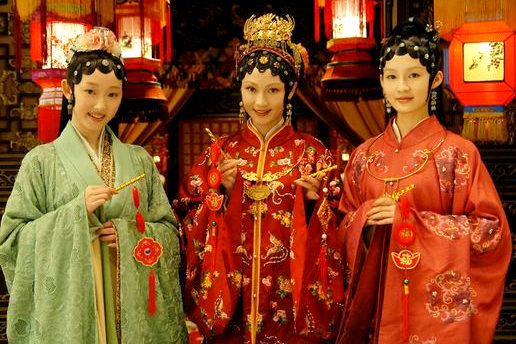 Ms. Ding Shumiao spent 50 million yuan to produce a new television version of the Chinese classic novel: The Dream of the Red Mansion. Ms Ding is alleged to have arranged for Mr Liu to have sex with some actresses. Photo: nfd

Meanwhile, Ms. Ding was indicted in a Beijing court recently on allegations that she conspired with Mr. Liu on high-speed railway and related projects worth a whopping 180 billion yuan, Chinese state media reported.

It appears that not only her greed but also her desire to share her ill-gotten riches with her family, may have ultimately been her undoing.

She was first held after auditors uncovered a nebulous payment of 100 million yuan from a large state-owned enterprise to Ms. Ding's daughter, Hou Junxia.

"The key question is that Mr. Liu was largely free to decide whatever he wanted (regarding) projects.

"An internal oversight department couldn't possibly tell him off as it was under his control," Peking University's Dr. Yan added.

From the perspective of a criminal mind, Ms. Ding and Mr. Liu certainly had a "good" thing going for an enviable stretch.

It was most likely the increasingly vigorous anti-corruption campaigns by the national leadership in Beijing that brought the two mega-grifters to justice.



---

More on Ding Shumiao:

http://blog.sina.com.cn/s/blog_48b0011f0102ehap.html

http://news.163.com/12/0110/05/7NCRNK8V00014AED.html

http://www.scmp.com/news/china/article/1306559/ding-shumiao-accused-collusion-jailed-ex-railways-minister-charged