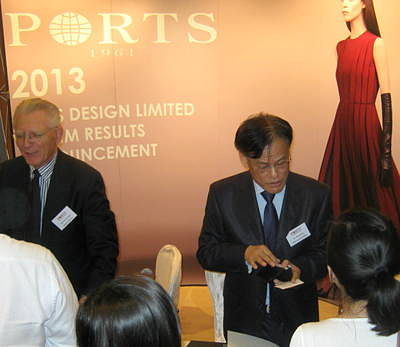 PORTS Executive Director and CEO Mr. Alfred Chan (right) meets and greets investors with Executive Director Mr. Pierre Bourque standing alongside. Photo: Andrew VanburenPORTS DESIGN LTD (HK: 589), a designer, producer and retailer of high-end ladies' and men's fashion garments and accessories, managed to lift its interim top line by a nearly double-digit rate to 1.1 billion yuan despite rather tepid consumer sentiment, executives told investors in Hong Kong.

"In spite of a weakened retail consumption sentiment and continuing expansion of top tier fashion brands across China, PORTS Design recorded a year-on-year turnover growth of 9.2% in 1H2013.

"This shows the solid foundation and recognition of our PORTS core brand among the fashion aficionados in China, the most momentous market in the world. The retail environment continues to be tough for the high-end sector, but PORTS has weathered the storm," PORTS Executive Director and CEO Mr. Alfred Chan told investors at Hong Kong's Four Seasons Hotel.

Turnover comprises two different segments: Retail and Others.

Interim retail turnover rose 7.9% year-on-year to 976.1 million yuan, mainly due to the increase of the average retail selling price and sales volume throughout the first half.

As of end-June 2013, PORTS operated 371 retail stores in the PRC, Hong Kong, Macau and the US, down slightly from 392 at end-2012.

"The net decrease of stores was mainly due to the repositioning of certain stores and a prudent store expansion management policy amid uncertain economic condition in general," Mr. Chan said.

Contribution from the Retail segment to total turnover decreased from 91.9% in 1H2012 to 90.7% in 1H2013, with Others turnover up 24.6% at 99.5 million yuan.

The Others segment increase predominantly resulted from the full-period contribution of the eyewear wholesale business, with the Others segment portion of total turnover up 1.2 percentage points to 9.3% in 1H2013.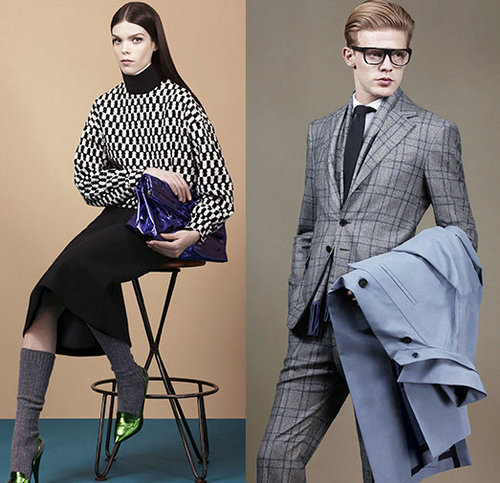 PORTS Design's interim revenue rose 9.2% to 1.1 billion yuan. Photos: PORTS"Our eyewear segment carries a higher profit margin," said PORTS Investor Relations Manager Ms. Clara Chan.

The interim gross profit margin remained stable at around 81.9%, but the fashion play's bottom line in the January-June period was down 10.3% year-on-year at 139.7 million yuan on higher expenses all around.

PORTS' board has proposed an interim dividend 0.11 RMB per share.

Management said the firm has stepped up financial controls to maintain a healthy balance sheet amid a shaky global economic recovery.

"Apart from the encouraging business results, the Group's net cash position of over 531 million yuan embodies our prudent capital management approach which we have successfully implemented and maintained in the past.

"With the abundant financial resources available, the Group is more resistant to an uncertain and volatile economic environment that companies in different industries are currently suffering," Mr. Chan added.

At the same time, he said PORTS is well equipped to promptly take any action that is appropriate and beneficial for the operation and expansion of the business, including the seizing of any available opportunities in the market.



PORTS' Hong Kong share performance of late. Source: Yahoo Finance

"Looking ahead to the second half of 2013, we have set our sights on receiving greater appreciation for our PORTS core brand and its merchandise across the globe.

"With this target in mind, tremendous resources have been allocated and will continue to be allocated to our design team with a view to solidify further our growing recognition as one of the hottest up-and-coming fashion brands among industry peers."

He added that in addition to its core garment and accessories lines, the success of PORTS' eyewear business exemplifies customer acceptance of the design of its accessories and the firm would "continue to broaden its inspiring product portfolio" to meet customer demand.

Like with real estate, PORTS believed success had a lot to do with "location, location, location."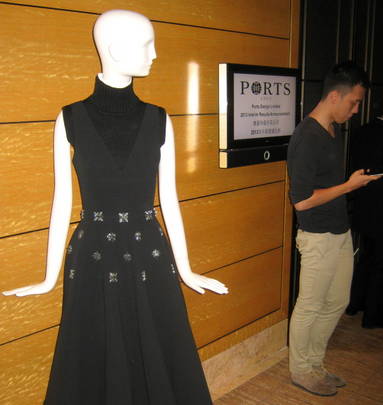 An investor checks his handset at Hong Kong's Four Seasons Hotel while a PORTS mannequin seems to look on.
Photo: Andrew VanburenAnd making the shopping experience as pleasurable as possible translated into busier cash registers.

"Attention is equally given in the offering of first-class and convenient shopping channels to our customers and prospective customers, and our vast capital investment in store expenses has illustrated our commitment in this aspect.

"Apart from the opening and re-positioning of our stores at the most suitable locations which tally with our brand caliber, another key distribution strategy will be the opening of outlet stores to allow different segment of customers to purchase our merchandise at a discounted price," Mr. Chan said.

Several expense categories were higher on a year-on-year basis, which served to chip away at PORTS' bottom line in the first half.

The Group's income tax expense increased by 8.6% to 69.7 million yuan in the first half.

Operating expenses in the first six months increased 14.2% to 678.1 million yuan which included higher distribution costs, administrative expenses and other operating expenses.

Distribution costs are mainly comprised of rental charges, salaries and benefits, stores and mall expenses, depreciation charges and advertising and promotion fee and were a major culprit behind higher overall costs for PORTS.

First half distribution costs increased 11.3% year-on-year to 524.6 million yuan.

"There is huge pressure on Chinese luxury firms to stay atop the heap and therefore higher expenses are mainly related to store upgrades.

"For example, one particular intersection in Shanghai is seen as setting the fashion trends for the entire country, and ports occupies a key location on one of the four corners, with its three neighbors being Gucci, Prada and Burberry," said Mr. Chan.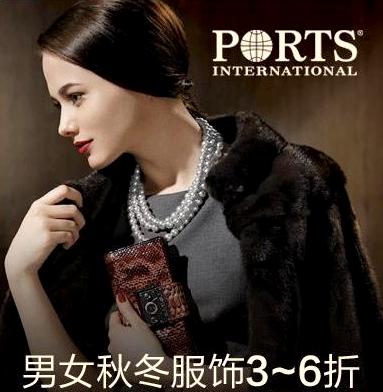 PORTS's fur coats offered out of season at this outlet are discounted by 40-70%. Photo: PORTSHe added that PORTS was "in a position to afford" increasingly optimal store locations.

And to maintain brand cachet and prestige, he added that PORTS continues to maintain its "no discounting policy" at its retail stores in the PRC.

As at 30 June 2013, the Group's gearing ratio was 43.5% based on outstanding borrowings and total equity of 1.92 billion yuan (end-2012: 45.6%).

Outperforming outlets, overseas options

Outlets were a different story than retail facilities, with the former seeing discounts of between 40-60%.

PORTS management expects its outlet store channels – which offer lower ASPs for yesterday's fashions at lower-rent shopping facilities -- to play an important role in supporting a sustainable inventory management approach over the long run.

"Our success has been clearly proven by the sales performance in our outlet stores in the Beijing Scitech Premium Outlet Mall and the newly opened Shenyang Scitech Premium Outlet Mall, and we intend to extend and replicate this success in the global arena by opening two outlet stores in Toronto and Chicago," Mr. Chan said.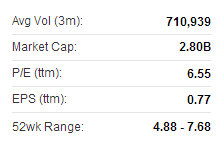 PORTS recently 5.23 hkdHowever, he added that lower-priced offerings via outlet stores presented no possibility of taking over PORTS' retail stores as the former still only contributed around 10% of the top line.

PORTS reduced its interim dividend payout ratio to 44%, down from 56% in 1H12, indicating that it will look to reinvest more heavily into its business going forward from the perspective of store fitout, store location as well as design talent.

Armchair shopping

While many shoppers covet the latest high-end fashion wear to grace their wardrobes, not everyone is enamored with the institution of shopping itself at brick and mortar facilities, given the increasingly busy lifestyles – especially for urbanites – that everyone seems to live these days.

"We plan to expand online sales to meet growing demand, and we will continue to explore more product categories and distribution channels," said IR Manager Ms. Chan.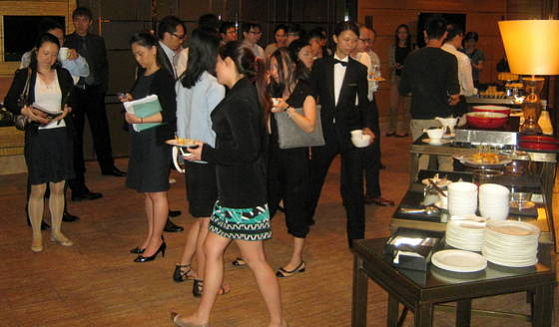 Investors, analysts and members of the media mingle prior to PORTS Design's interim results briefing. Photo: Andrew VanburenCEO Mr. Chan was also sanguine on the possibilities offered by virtual shopping.

"In addition, to respond to the growing popularity of internet shopping, we also look to develop and enhance the overall experience and effectiveness in our online shopping site.

"The response and acceptance is unanimously positive and encouraging and we are very excited about the prospect of this online channel, which will allow our merchandise, concept and value to be introduced to customers in any part of the world," Mr. Chan added.

Asked to sum up the firm's overall strategy going forward, Mr. Chan said the high-end fashion play was very ambitious.

"We remain confident with the prospect of the luxury retail market in China due to the expected growth in the size of middle income class and demand for high-end products in mid-to long term, and our solid and healthy financial position, proactive management as well as in-depth understanding of consumers' preference in China will continue to bolster the success of the Group in the future.

"We are poised to prosper when the good days return. Our top aim it to build PORTS into a global luxury brand."


---

See also:

EVERGREEN Top Line Jumps 10%