Cinda: PROSPERITY REIT may see upside surprise

Cinda Research said that Prosperity REIT (HK: 808) may surprise on the upside this year in its financial report.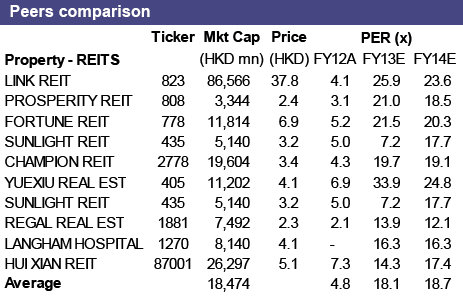 Source: Cinda

"We view Prosperity REIT differently than other REITs due to its office decentralization and exposure to the Kowloon East development.

"The significant rental reversion that happened last year could give surprise to profits this year," Cinda said.



Source: CindaIn 2012, rental reversion was 36% (up from 14.8% 2011) due to a major contribution of Grade A offices.

When 'decentralized' becomes the new center

In 2012, the Prosperity REIT achieved a net property income increase of 13.2% year-on-year, distribution per unit (DPU) grew by 12.6% and dividend yield at year-end was 5.8%.

"Over 60% of the company's tenants remain mid/large sized enterprises which are considered of good quality and stable. Its core assets are decentralized offices which are in higher demand," Cinda said.

Prosperity REIT has two Grade A office buildings that make up over 55% of the company's net property income.

"Both of them are situated distant from Central where many companies are gradually moving away from due to the soaring rent.

"One of its flagship properties -- The Metropolis Tower -- is situated near Kowloon East: "the 2nd CBD" to-be of Hong Kong."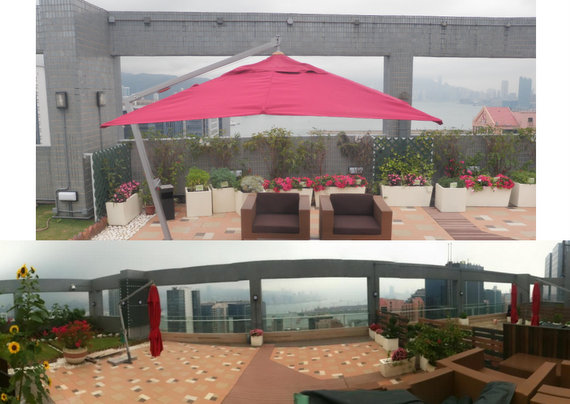 Before and after photos of an upgraded Prosperity REIT property. Photo: Company

Low supply of Grade A offices in Kowloon should continue in 2013, while demand remains strong, the research note added

Growth by revitalizing in Kowloon East development

In 4Q 2012, Prosperity Place was approved to convert its use from industrial/office to commercial under the industrial buildings revitalization scheme.

Having completed additions and alterations in 1Q this year, several commercial tenants have already moved in.

"Prosperity REIT owns another industrial/office building in the same region of Kowloon East, together with the other two industrial buildings, and the company plans to undergo the same wholesale conversion after obtaining 100% ownership," Cinda said.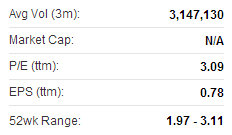 Prosperity REIT recently 2.40 hkdPromising demand and rental reversion

Having secured several major tenants in Grade A offices last year, Prosperity REIT management expects them to fuel rental income for the following three years.

"The demand in Kowloon ensures the growth of the company's decentralized offices."

For the reborn Prosperity Place, 50% of the lease is expiring next year, and the company is optimistic on rental reversion with the introduction of commercial tenants, as well as the opening of a cruise terminal in Kai Tak.

"The 36% rental reversion rate last year is expected to contribute to a 20% growth in revenue in 2013, thus a 7.0% dividend yield, we expect, higher than consensus 6.1%," Cinda added.

Prosperity REIT owns and invests in a portfolio of commercial properties, Grade A offices, industrial/office and industrial buildings located in Hong Kong. Its portfolio currently features seven properties with a total of over 1.2 million square feet. The properties are strategically located with direct access to the mass transportation network of Hong Kong, but distant from the current CBD -- Central. Cheung Kong (Holdings) Ltd together with Hutchison Whampoa Ltd is the single largest unitholder of Prosperity REIT.

---

Source: Credit Suisse

Credit Suisse: CHINA SPORTSWEAR 'Market Weight'

Credit Suisse said it is maintaining its "Market Weight" call on Hong Kong-listed Chinese sportswear plays, adding that there is a "glim of recovery" visible for the struggling sector.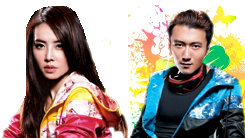 Photos: Xtep"Our recent channel checks indicated that the overall retail environment for the sportswear sector is improving gradually, though market sentiment remains low.

"The improvement was most reflected with a longer sales period of no or low retail discounts for new product launches than before," Credit Suisse said.

Most brands had their 2Q13 same store sales growth (SSSG) still negative or close to flat.

"We expect SSSG to improve in 2H13 given the low base last year. The 1Q14 trade fair results will be an important indicator for 2014 growth and we expect in general the sales should improve in 2014 with inventory cleaned up.

"According to management, Xtep International (HK: 1368) may announce 1Q14 trade fair results at the interim results announcement."


---
Guoco: ANXIN-CHINA gets 'Buy' call

Guoco Research said it is assigning a "Buy" recommendation on electronic security firm Anxin-China (HK: 1149) with a target price of 3.0 hkd (recent share price 2.36).

Anxin-China offers systems integration services for high technology intelligent security warning systems.

"We recommend buying on the current dip," Guoco said.



Guoco's cut loss for Anxin-China is 2.07 hkd, the 2013 PE is at: 9.08 times and the consensus target price is 2.63 hkd.





Anxin-China designs and manufactures system hardware and application software for installation of intelligent surveillance disaster (ISD) alert and rescue coordination systems in the PRC.

It

is also moving into ISS (Intelligent Safety System) technologies which help keep industrial venues safe and business secrets secure.



ISD is a dedicated communication platform that collects, processes, transmits, analyses and finally displays sensor data in a government monitoring center. In the past, data acquired by sensors are never shared between one factory and the government, causing some issues between the government and factories. Now with the help of ISD systems, the government can directly monitor the status of a factory on a REAL-TIME basis, greatly reducing the possibility of production hazards.
ISS
refers to smart hardware/software used in the safety business. For now Anxin-China has been focusing on the development of smart video surveillance systems, based on core algorithms Anxin acquired from Israel. In current stages, Anxin is determined to turn traditional PASSIVE cameras into cutting edge ACTIVE cameras that can effectively collecting useful information.


---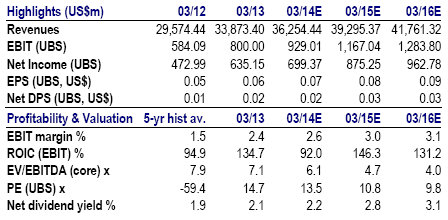 Source: UBS

UBS: 'Buy' call kept on LENOVO

UBS said it is maintaining its "Buy" recommendation on Lenovo Group (HK: 992), China's top PC brand.

The target price on Lenovo is 8.5 hkd (recent share price 7.13).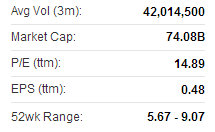 Lenovo recently 7.13 hkd"Lenovo is still the best play in the camp. We remain positive on Lenovo on the back of PC market share gains.

"We believe the upside in the US and EMEA (Europe, the Middle East and Africa) should offset the downside in China," UBS said.

The research house forecasts Lenovo to deliver an improving operating margin of 2.48% in 1QFY14 from 2.16% a quarter ago and 2.27% last year.

"We forecast sales to grow 11.6% sequentially and 9.1% y-o-y to reach 8.74 billion usd due to strong than expected shipments across PCs, smartphones and tablets. This should be higher than the market estimate of 8.45 billion."

---

See also:

PROSPERITY REIT: Now At Forecast 5-6% Yield

XTEP Celebrates 5 Years As Listed Fashion Sportswear Play