UBS:
Residential new starts rebound in April



"Primary weekly sales for the top 41 cities increased 23% w-o-w for the second week of May 2013 from a low base in the previous week due to Labor Day public holidays," UBS said.



Residential new starts in April increased 9% from a year earlier, reversing from a negative y-o-y trend in March.

Year to April, the accumulated residential new starts increased 2% y-o-y.

"We expect accumulated new starts should continue to show a positive single digit growth y-o-y for 2013 with more cities actively implementing price control measures."

The local press reported that the Nanjing government is actively monitoring the residential price trends in the city.

"Local developers stated that the price control department has further narrowed the allowed price increase for new phases to 3% (from 5%) compared to previous phases.

"Earlier reports also suggested that the Beijing and Guangzhou governments are also strictly implementing the price control measures and delayed pre-sale approvals for high-end projects," UBS added.



The sector is currently trading at 9.7x 2013E PER.

UBS believes the weaker sales momentum in April may trigger some short term profit taking in the sector after the recent strong run in share price seen in the last 1-2 months.

"Over the medium term, we continue to prefer Guangzhou R&F, Shimao, Country Garden and COLI."


---


Credit Suisse: Mixed recent property sales performance

Credit Suisse said that last week (May 6-12), primary market volume in the major cities it tracks rose 17% w-o-w but fell 5% y-o-y.

The y-o-y decline was mainly caused by Suzhou, Guangzhou and Beijing, with average primary housing transaction volume in major cities YTD up 43% y-o-y.

"According to Vanke, the official data are not as strong as many developers' feedback on home buyers' sentiment because weekly data may be heavily influenced by some exceptional cases (such as Beijing and Suzhou). The company also reconfirmed that the sell-through rate remains strong in May so far," Credit Suisse said.

China's National Bureau of Statistics announced 4M13 national real estate data, with total real estate investment growth staying strong at 21% y-o-y in April.

Residential construction commencements were +3.4% m-o-m and +8.7% y-o-y after the sharp y-o-y decline in March.

"The NBS data usually lag the actual construction contracts for a few months, so we expect a continued pick-up in construction new starts in the subsequent months."


---

Deutsche: Developer/landlord valuation gap stark

Deutsche Bank said the valuation gap between developers and landlords is now hovering at a historical high.

"Developers have underperformed landlords in the past 30 months following the introduction of the Special Stamp Duty (SSD): the share prices of the two segments have fallen 18% and risen 16% over the period, respectively," Deutsche said.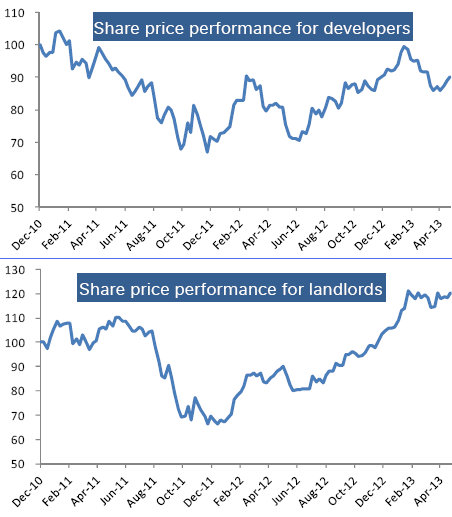 Source: Deutsche

The divergence in share price performance is reflected in the growing valuation gap between developers and landlords, which currently stands at close to historical high levels.

"Most developers have a sizeable investment property portfolio. If we apply the market implied discounts on landlords to developers' respective investment portfolios, the current share prices have mostly implied zero value for their residential exposure, which we believe reflects an overreaction to the various rounds of government measures."

Deutsche said it believes the valuation gap between developers and landlords should see mean reversion ahead.

---

Bocom: SHIMAO, AGILE, YUEXIU 'Top Picks'

Bocom International said that Shimao, Agile and Yuexiu remain its "Top Picks."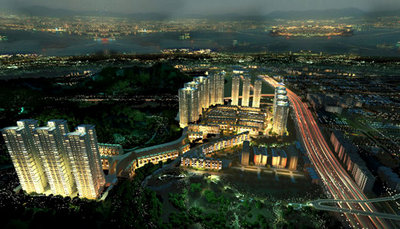 Agile is a 'Top Pick' by Bocom. Photo: Agile"A number of local governments, including those of Beijing, Nanjing, Guangzhou and Shenzhen, have launched price restriction measures, demonstrating their determination to rein in property prices.

"We think some other cities would follow suit, such as Chongqing, Chengdu, Hangzhou and Shanghai," Bocom said.

The research house said it maintains its view that contracted sales momentum is likely to take a breather in 2Q13.

It also contends that property prices will remain steady going forward.

"We prefer developers with higher lock-in ratios to their sales targets (such as Yuexiu Property) or huge volume to be launched in the short term (such as Shimao, Agile and Yuzhou Properties)."

---