'Dividend Warrior' is a 30-year-old guy living in Singapore who says he is "a simple man with simple needs". This article was recently published on his blog and is republished with permission.




2013 was a rather eventful year. The US fiscal cliff shenanigans at the start of the year, followed by QE taper fears, US debt ceiling fight and ending with a spectacular crash of the local penny stocks market.

Through it all, I am proud to say my portfolio and my dividend income stream continue to grow.

In fact, I managed to celebrate my 30th birthday by achieving the goal of collecting S$1k per month in dividends. Better still, I surpassed that goal!

Let's take a final look at how my Singapore Dividend Portfolio has performed in 2013.

>> My portfolio size in terms of cost/capital has increased from S$163,794 to almost S$200k now. This represents a 22.1% rise.

>> I collected a total of S$14,370 dividends in 2013 compared to S$8,968 in 2012. This represents a 59.6% rise.

>> My portfolio's current dividend yield remains healthy at 7.1%, compared to 6.8% in 2012.

2014 - Buying Opportunities!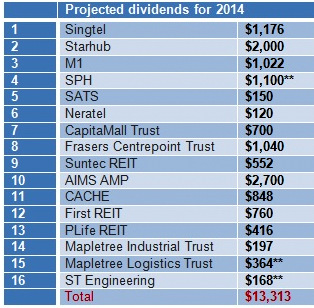 ** I have divested HPH Trust and Sabana REIT. Added Mapletree Logistics Trust and ST Engineering. The total dividend is an estimated figure based on 2013 numbers. There is NO guarantee the companies will maintain the dividends next year. The special dividend payout due to the SPH REIT spin-off is not included in the calculation. Even though my passive dividend income is already sufficient to pay for all my daily expenses and bills, I am not resting on my laurels.

I believe that 2014 will be the year when the compounding effect on my portfolio will shine through.

It will be the year when my dividend compounding strategykicks into high gear. My regular readers should understand what I mean.

However, those of you who are new to my blog may be wondering, "Is DW thinking straight? Is he blinded by yield? The Fed is starting QE taper soon! Interest rates will rise! REITs and dividend stocks will go out of favour! Why is he still buying dividend stocks?"
The answer is simple. I am currently in the accumulation phase of my investing life.

In other words, I am a net buyer of stocks. Therefore, I wish to see prices weaken so that I can keep growing my portfolio.

Of course, there are risks. But I have faith in my strategy and it has served me well over the past 4 years.

I just need to be more selective when adding counters. My new dividend income target for 2014 shall be S$1.2k per month.

In 2014, I shall be collecting dividends for every month, except July and October. Mini-bonuses almost every month! Rejoice!