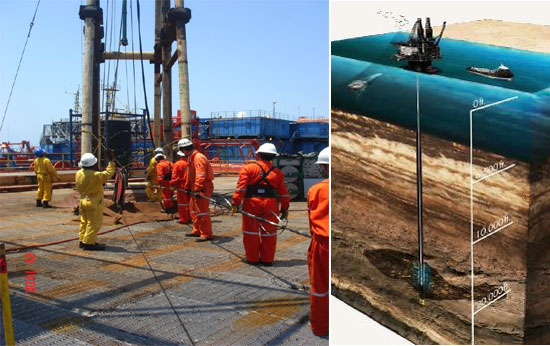 Rex International is in a JV to provide oilwell stimulation services that can increase daily production by 30% up to 380%. Left: Oilrig crew manning a wellbore. Right: Crude oil is pumped from the oil well miles below the seabed via a wellbore to the oilrig.



THREE MONTHS after its IPO on 31 July, Rex International has increased its portfolio of oil exploration and production licences from 10 to 15.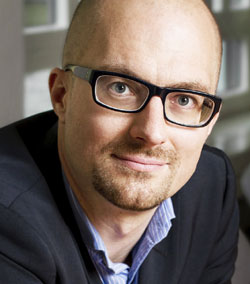 Rex CEO Mans Lidgren "We are well on target to doubling our concession rights to 20 oil exploration and production contract areas within a year of listing," said its COO Kristofer Skantze.

At a briefing for analysts and fund managers on Thursday, Mr Skantze assured them that all its concession assets contain substantial amounts of oil.

Rex will only participate in drilling licence rights for offshore assets with at least 50 million barrels of recoverable oil.

Currently, its technology is used only for oil exploration. It has stayed away from oil production because of the high capital expenditure and working capital requirements.

As no revenue was generated, the company posted a loss after tax of US$3.7 million for the first 9 months of 2013.

However, two new developments are about to improve its revenue and cash flow.

Revenue from oil production service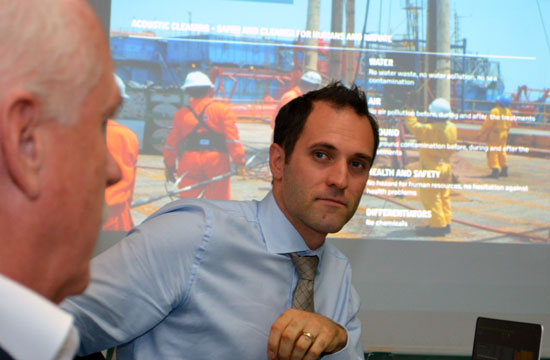 'Rexonic technology unclogs the steel shaft of the wellbore so that crude oil can be pumped to the oil rig more effectively," said Rex COO Kristofer Skantze. Photo by Sim KihOn 13 November, Rex International completed its joint venture agreement with Swiss firm Ogsonic AG to operate Rexonic, which provides proprietary well stimulation technology to oil production and service companies.

"Rexonic will contribute a complementary, recurring revenue stream to Rex International's main activities in oil exploration," said CEO Mans Lidgren in a press statement.

Rexonic owns proprietary, patented ultrasound technology that is highly efficient in cleaning the wellbore of typical oil production inhibitors such as wax, paraffin and salt deposits.

This significantly increases oil flow through the wellbore at low cost, and has proven to increase oil production by 30% up to 380% both onshore and offshore.

"This has worked for low producing as well as high producing oil-wells owned by South American and Asian national oil companies that contracted us," said Ogsonic Chief Technology Officer and founder Peter Spenger, who was also present at the meeting.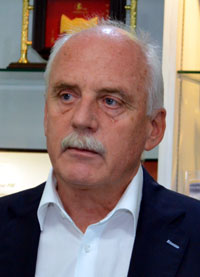 Peter Spenger commercialized Ogsonic's oilwell stimulation technology in 2008.
Photo by Sim Kih"There is technical synergy as both joint venture partners deal with green technology: Acoustics instead of chemicals, unlike conventional service providers. We can also cross-sell to each other's customers," said Mr Skantze.

Rexonic's operating business models will include the servicing and licensing of the technology to oil production companies and oil service companies.

Rex International paid for its 66.7% stake in Rexonic with US$10 million cash and the issue of 15.8 million new Rex shares worth S$12.4 million (at 78.7 cents each).

Ogsonic owns the remaining 33.3% in Rexonic and will contribute its oilfield service technology.

To raise monies for the JV and other new opportunities, Rex International placed out 70 million new shares at 75.5 cents each this month (gross proceeds S$52.85 million).

Drilling commences this month
The second development that will boost revenue at Rex is a drilling campaign that takes place this month.

"We are spudding Rex International's Oman oilwell from 20th to 25 Nov. The drilling campaign will last about a month. We hope to see the first results around Christmas," said Mr Skantze.
Rex International's 65%-owned subsidiary, Lime Petroleum, has a 64% participating interest in the Block 50 Oman concession, whilst Petroci Holding, the national oil company of Ivory Coast, has a 36% participating interest.

"Next year, we intend to have 5 to 8 offshore drilling campaigns," added Mr Skantze.

Separately, Rex International will be added to the MSCI Singapore Small Cap Index on 26 November.


Recent story: UOB KH Says: Buy Pan-United, Rotary Engineering, REX International