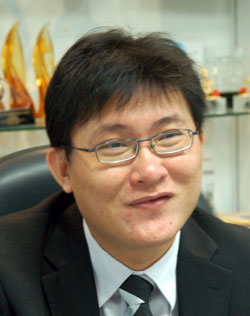 CFO Samuel Ng. NextInsight file photoLEADING PRC manufacturer of precision stamping machines, World Precision Machinery, is back on recovery mode after a slowdown in 2H2012.

3Q2013 net profit attributable to shareholders was Rmb 27.1 million, compared to Rmb 1.4 million in 3Q2012.

Domestic demand for its products is strong: China's home appliance sector grew 15.7% year-on-year during the first 8 months of 2013 to reach Rmb 812.9 billion.

China's automotive industry is doing equally well: Automobile production grew 12.8% year-on-year during the first 9 months of 2013 to reach 15.9 million units.

"China's rising cost of labor boosts demand for our high-performance machines because they increase production automation and reduce the need for manual labor," said CFO Samuel Ng during a telephone interview with NextInsight on Wednesday.
In the meanwhile, its high-performance stamping machines continue to command relatively better margins compared to conventional machines.
Other positives in its 3Q2013 results:
>> Revenue growth of 9.1% year-on-year to Rmb 204.2 million for 3Q2013, driven by higher sales of high-performance and high-tonnage stamping machines.

(Revenue for high-performance and high-tonnage stamping machines grew 9.8% while revenue for conventional stamping machines increased by 3.8%.)
>> Gross margin improvement by 8.1 percentage points to reach 33.3%.

(Gross margin for high-performance and high-tonnage stamping machines improved by 9.8 percentage points to reach 34.4%. Gross margin for conventional stamping machines increased by 6.8 percentage points to reach 29.4%.)
>> Net profit margin improvement by 12.5 percentage points to 13.3%.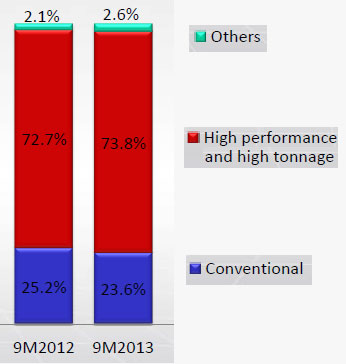 World Precision 9M2013 segment revenue contributionThe company had an order book of Rmb 120 millon as at 8 November.
The CFO provided the following updates during the interview.
Overseas foray
In the past 5 years, World Precision has been expanding its presence in the Bohai Rim in North China, which has been earmarked by the government to be China's 3rd economic engine, after the Pearl and Yangtze river deltas.

It invested in a new plant in Shenyang that occupies land area of 364,923 sq m.

Production commenced a year ago and it plans to double the capacity of this new plant to annual output value of Rmb 600 million by the first half of next year.
Now that it has gained a foothold in the region, the company will foray more aggressively overseas.

It wants to be nearer to customers. With the rise of frontier markets in Southeast Asia and South America, its customers have been setting up new facilities outside of China.
This development is a result of China's escalating cost of labor coupled with rising consumption demand from frontier economies.
Some automobile component manufacturers have already relocated to South Africa and South America.

World Precision recently secured a contract worth Rmb 9.63 million from a sub-contractor of Ford Motor Co in South Africa.
South America is another fledgling market. Brazilian auto production is expected to grow 11.9% in 2013, reaching 3.79 million cars, trucks and buses, compared to previous estimates by its automaker association of just 4.5% growth in 2013.
"We are also bringing our machines to trade shows in Indonesia, Thailand and Vietnam," added Mr Ng. He expects the company to beginning exhibiting in trade shows in Southeast Asia next year.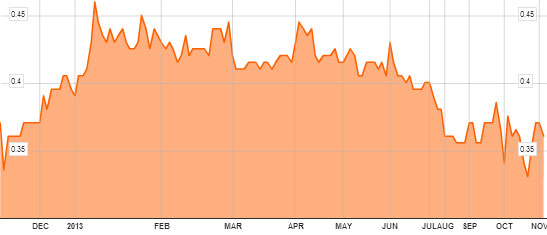 At 36 cents, World Precision's stock price has come off some 20% to 30% since the first half of this year. Bloomberg data

Higher productivity to sustain margins
To deal with the rising cost of labor, World Precision has budgeted Rmb 50 million every year to purchase new equipment so that its own facilities will be more productive.
This year, it reduced total headcount (management, administrative personnel and production line workers) to 2,000 people from 2,500 last year.
"Depreciation expense from new equipment purchase was offset by the decline in our total labor expense," said the CFO.
"Improving productivity allows us to maintain margins when we are unable to pass increases in cost of raw materials or labor to customers," he said.

"We are likely to sustain the improved margins for 2H2013," he concluded.


Recent story: WORLD PRECISION: 1H2013 Net Profit Down 37% Yoy; 2H2013 Will Be Better