IT IS NOT common for independent directors to buy shares in the companies whose boards they serve on.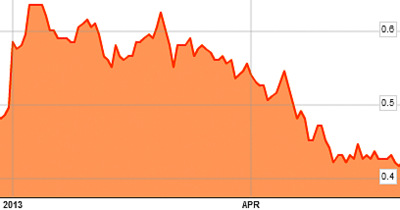 Geo Energy stock has declined from a peak of 65 cents in Jan 2013 as coal prices softened. Chart: BloombergSome directors hold the view that by not being vested, they can better maintain an independence that would serve the interest of minority shareholders.

However, legendary investor Warren Buffett likes it that his board of directors at Berkhshire Hathaway comprises of shareholders, and big ones at that.

"At Berkshire, board members travel the same road as shareholders," Buffett wrote in his 2004 letter to shareholders, adding in 2005, "I know of no other board in the country in which the financial interests of directors are so completely aligned with those of shareholders."

It's noteworthy that two IDs of Geo Energy Resources have just bought shares in the Indonesian coal mine owner-cum-operator which listed on the Singapore Exchange in Oct 2012.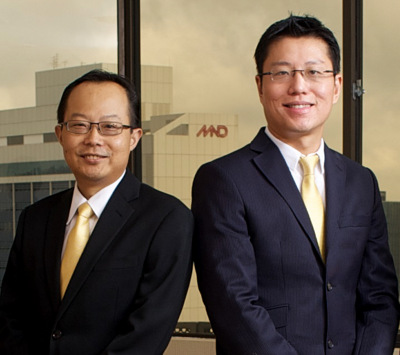 Lu King Seng (left) and Ong Beng Chye.
Photo: annual reportOng Beng Chye bought 100,000 shares on May 14 at 43 cents apiece, while Lu King Seng got in earlier at a higher price: 300,000 shares on 25 April at 46.5 cents apiece.

These are the first transactions for them, and were made after the stock had descended substantially from recent highs.

The stock recently has traded lower to around 42 cents, but it is still higher than the IPO price of 32.5 cents.

The two IDs are accounting-trained and experienced in financial matters. Lu King Seng has more than 6 years of commercial experience as CFO and 9 years of audit experience in London, according to Geo Energy's annual report.

Ong Beng Chye has more than 20 years of experience in the financial sector, having served in various roles including group financial controller, and is currently the audit committee chairman of listed Hafary Holdings.

Another board member who is a non-executive director, the famed investor Jim Rogers, also has a vested interest in the company.

Recent story: @ GEO ENERGY's AGM: Jim Rogers in the limelight


---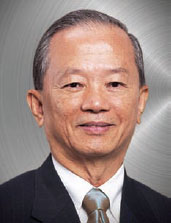 Gui Kim Young, 72. Photo: InternetAn independent director of San Teh, Gui Kim Young @ Gui Kim Gan, has stepped up his purchase of the company's shares. He bought 100,000 shares on 20 May and 100,000 on 8 May. Both transactions were done at 33 cents apiece.

That raised his direct holding in the company -- which is in the hotel and property, and PVC pipes and fittings businesses -- to 1 million shares.

He also has a deemed interest in 1.7 million shares comprising the following:
a) 1.2 million shares held by him through Phillip Securities; and
b) 500,000 shares held by him through Weishi Investment.

Mr Gui, 72, should know the business of San Teh well as he has been its ID since 1998.

He is also a certified public accountant practicing in Singapore and is a director of a public accounting corporation. Mr. Gui chairs both the audit and remuneration committees of San Teh.

The company didn't have a great year in 2012.

Net loss increased from $8.4 million in 2011 to $15.9 million in 2012 mainly because of an exchange loss of $8.2 million and an impairment loss of $2.2 million.

However, it is debt free and had net cash of about S$95 million as at end-March 2013, which is equivalent to 28 cents a share. Its Net Asset Value was 64 cents a share, far above the recent stock price of 32 cents.

The cashpile will be put to work: San Teh acquired in April 2013 a 113,000 sq m piece of land in Yunnan province for RMB85.6 million for residential-cum-retail property development.