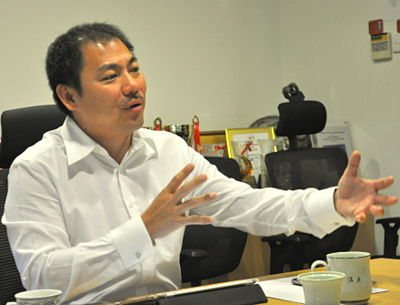 Pek Lian Guan, CEO of Tiong Seng Holdings, speaking with analysts during the FY12 results briefing at his office in SLF Building in Thomson Road. Mr Pek's father co-founded the company 54 years ago.
Photo by Leong Chan TeikTiong Seng Holdings' construction division was a star performer last year, earning $496.4 million, or 42% higher year-on-year.

On the other hand, the property development division's revenue contribution fell 94% to just $3.3 million.

As at end-2012, Tiong Seng had about RMB 150 million of property development revenue that it has yet to book.

And the company expects to recognise the bulk of it in the second half of this year when the keys to properties in Phase 2 and Phase 4 of the Sunny International project in Cangzhou, China are handed over to the buyers.

This is the way revenue is recognised, instead of by progressive recognition, because buyers in China have a right to cancel their purchase and demand their deposits back prior to the handing over of the keys.

While waiting to hand over the keys, Tiong Seng absorbed about S$2.7 million in various costs, including selling and staff costs, in 2012.

Tiong Seng's FY12 net profit was $25.7 million, down 5% year on year. Revenue rose 23% to S$511.4 million.

It proposed a first and final dividend of 1-cent a share, unchanged from the year before. The dividend yield on the recent stock price of 25.5 cents is 3.9%.

You can read details of the FY12 results on the SGX website.



PARKROYAL on Pickering, which is owned by UOL Group, was one of the construction projects done by Tiong Seng Holdings last year. Photo: Hotel

Construction order book of S$1.31 billion -- but industry challenges lie ahead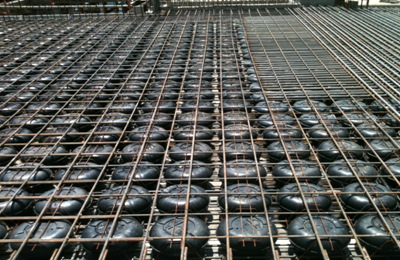 PARKROYAL on Pickering's beautiful architecture was partly made possible by Tiong Seng's use of its proprietary Cobiax balls, which are encased in steel mesh. With the balls in place, less concrete is needed in the production of slabs, resulting in lower weight of structureAs at end-2012, Tiong Seng's order book stood at $1.31 billion, the largest among Singapore-listed contractors. The order book includes $542 million worth of new contracts secured in 2012.

In essence, last year, the company replenished its order book while fulfilling roughly about the same dollar value of contracts ($496 million).

The bulk of the order book is expected to translate into revenue this year and next year.

There's more work ahead: Tiong Seng is expecting to benefit from strong construction demand this year which is projected at between S$26 billion and S$32 billion by the Building and Construction Authority. This is higher than the $28 billion worth of contracts awarded in 2012.

A rather unpleasant reality for Tiong Seng and, especially, its peers is the tighter supply of foreign workers and higher worker levies to come.

However, Tiong Seng expects to feel less of the pain as it has construction technologies to mitigate these challenges.

In particular, its automated pre-cast integrated hub, which opened last year, will make some of its rivals turn green as it slashes the use of manpower by 50-70% as compared to the traditional non-precast method of building.

The manufacturing facility is a big step up for Tiong Seng which, since 2005, has been designing and producing pre-cast components for most of its projects, making it a standout among Singapore contractors.

The manpower savings are about 20% vis-a-vis traditional non-precast building methods.

Currently operating at 50% utilisation rate, the $36-million automated pre-fab hub in Tuas will be ramped up this year.

Said Pek Lian Guan, CEO of Tiong Seng Holdings, during last Thursday's FY12 results briefing for analysts: "Public projects will be in focus, and the government has said it would take the lead in designing buildings that are efficient to build. There will be a lot more pre-fabrication. Our early venture into automated pre-cast will bring us good rewards in the coming years."



Minister of National Development Khaw Boon Wan. Photo: Blog(Click here to view pictures and read Minister of National Development Khaw Boon Wan blogging about his 2012 visit to Tiong Seng's pre-fab hub)

In addition, Tiong Seng is expecting to start production in 2H2013 of pre-cast components on a 6-ha piece of land it has bought in the Iskandar region in Johor.

The Johor pre-cast yard will double its total annual capacity to 150,000 cubic metres, enabling Tiong Seng to do more external sales to contractors in Singapore.

The purchase of the land for the yard was part of the nearly S$40-m investment in property, plant and equipment (including cranes and formworks) that Tiong Seng made last year in preparation for more business -- and manpower constraints -- ahead.

Targeting: Thomson MRT & China property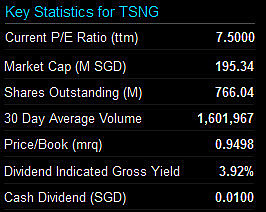 Tiong Seng last traded at 25.5 cents. Bloomberg dataTiong Seng is bidding for MRT projects under the S$18-billion Thomson Line.

Mr Pek is hopeful that tenders from fellow contractors will be more sane, unlike for a previous MRT Line project where low bids were thrown in by aggressive foreign contractors with dim job prospects back home.

As for the real estate market in China, which has suffered from being in the doldrums for the past year or two, signs are turning positive.

Land bidding prices have gone up in recent months, noted Mr Pek. However, certain restrictions on sales remain in place. In the medium term, Tiong Seng is optimistic about its prospects in developing property in China, said Mr Pek.


---

Recent articles:

TIONG SENG HOLDINGS: Record $1.4 billion orderbook, highest among listed contractors

TIONG SENG: Managing rising costs with productivity innovation