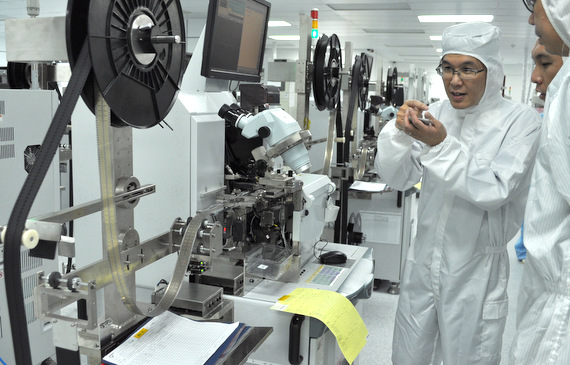 @ Smartflex's factory in Ubi: The company's executive chairman, Tan Tong Guan, shows NextInsight around the high-tech cleanroom which has 11 production lines.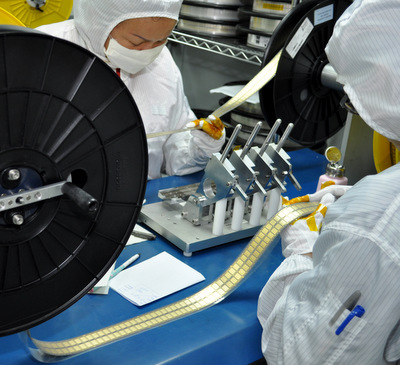 Photos by Sim Kih

IN THE PICTURE on the right, quality control workers are inspecting freshly-manufactured smart card IC modules in a cleanroom of Smartflex Holdings in the industrial estate of Ubi in Singapore.

Who knows, one of these shiny modules could end up embedded in a future credit card of yours or in a SIM card for your mobile phone.

More than 500 million of these modules are produced a year, or 1.5 million a day 24/7, by Smartflex, which is listed on the Catalist of the Singapore Exchange.

That means it produces about 8.6% of the world's smart card modules.

The modules are not just hardware but come with operating systems, or data, loaded on by Smartflex on behalf of its customers.

About 15% of its modules end up in smart cards used in the bank industry, 80+% in the telco industry, and the rest in various other businesses, as we learnt from Smartflex's executive chairman Tan Tong Guan.

Among Smartflex's top customers is ST Microelectronics, the 5th largest semiconductor ompany in the world.

Oberthur and Giesecke & Devrient are also big customers. They all have offices in numerous countries and are qualified by banks and telcos there to supply smart cards.

The products end up mostly in developing countries with huge populations, in particular China and India where it is commonplace to use prepaid cards for mobile phones, said Mr Tan.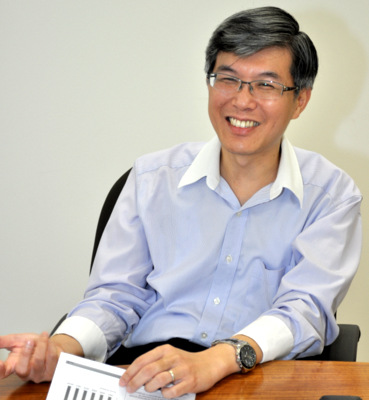 Tan Tong Guan, co-founder and Executive Chairman of Smartflex, has a direct and deemed interest of 63% of the company.
Niche business

Smartflex is the only independent contract manufacturer of its kind in Singapore. (There's another such operation in Singapore but it is an in-house outfit of a MNC.)

This is a niche business --- and being one of only a few qualified suppliers to each of its customers, Smartflex is a key part of their supply chain.
That has motivated it to go for a listing in 2010, enabling its business and financials to become transparent.

Smartflex's market capitalisation is just about S$11 million based on a recent stock price of 13.5 cents.

With margins under threat, Smartflex realises it cannot try to grow its bottomline by just growing its sales volume.

The good news, said Mr Tan, is Smartflex has acquired technology to achieve an innovative manufacturing process that will result in meaningful cost savings from next year.

In addition, it is targeting new markets to supply its modules to, such as smart cards for use in the healthcare industry (which would also diversify away its risk from the telco industry).

Smartflex is aiming also to produce modules for contactless smart cards for use by public transport commuters.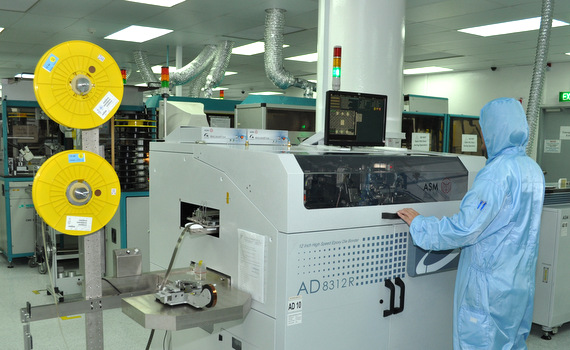 Because Smartflex's customers are fairly big companies, they have been regular in their payments, even during the financial crisis recently. Above: A Die Attach Machine

Financials:

Its revenue decreased 4.1% to USD14.0 million in HY2012 ended June.

Net profit tumbled 59.4% to USD 0.7 million --- owing to the ongoing European debt crisis as well as competitors' aggressive pricing.

However, it expects business to be stable in the current 2H2012.

Cashflow has been positive and capex is expected to be in the region of US$1-2 million a year.

Because Smartflex's customers are fairly big companies, they have been regular in their payments, even during the financial crisis recently.

Trade and other receivables of Smartflex was US$3.1 million as at end-2011.

"Since 2003, when we started business, we have not had any significant bad debt," said Mr Tan.

As for dividends, Smartflex paid out 0.65 cent a share and 1 cent a share for FY11 and FY10, respectively, translating into a payout ratio of around 30%.

Based on its recent stock price of 13.5 cents, the historical dividend yield is 4.8%.