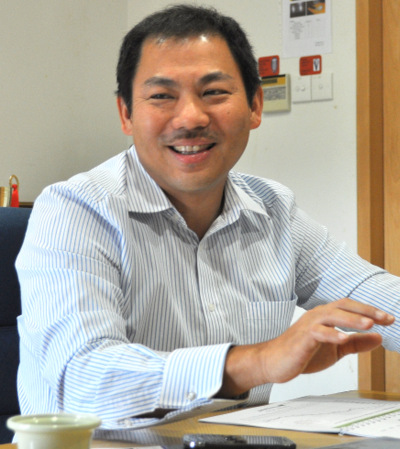 Pek Lian Guan, CEO of Tiong Seng Holdings.
Photo by Leong Chan Teik
This is the second of two articles on Tiong Seng. The first was: TIONG SENG: Record $1.4 Billion Orderbook, Highest Among Listed Contractors

Construction cost in Singapore is rising significantly and impacting the profit margins of contractors.

A major cost is the foreign worker levy, which rose significantly in the past year and will rise from $350 to $450 from July next year.

"All contractors will be hit, but Tiong Seng is in a relatively better position as we have technology that cuts down the use of manpower," said CEO Pek Lian Guan during an exclusive interview with NextInsight.

Unlike most other contractors who buy straight from pre-cast producers, Tiong Seng's key advantage lies in its ability to design, produce and instal pre-cast components.

As Mr Pek highlighted, an advantage of using pre-cast structures is that manpower requirements are reduced by about 20% as compared to the conventional method.

And he expects Tiong Seng's foreign worker levy cost to increase further as a result of the recent government policy to restrict the use of foreign labor.

Consider that the average manpower requirement for each of its projects is approximately 500 workers.

Assuming 10 projects a year, Tiong Seng is able to save about half a million dollars a year in worker levy just from its use of pre-cast structures: ie, 0.2 X 500 workers x $450 levy X 10 projects = $450,000.

In May this year, Tiong Seng opened Singapore's first fully automated pre-cast manufacturing facility, which utilises German technology for formwork assembly.

There are three key benefits to having such an integrated construction and pre-cast hub.

First, it optimizes land use through the integration of construction related activities like formwork maintenance, prefabrication work and precast concrete production under the same roof.

Second, it improves productivity and reduces the need for workers substantially through the use of advanced computer technology, automation and mechanization.

This translates into total manpower savings of 50% to 70% compared to the conventional method of production. Lastly, pre-cast manufacturing improves the quality and precision of components.

This year, the Tiong Seng pre-fab hub's impact on the company's bottomline will not be apparent, as it is in the midst of ramping up production.

High-performance lightweight concrete slabs


Tiong Seng keeps itself abreast with the latest eco-friendly technology.

In Sep 2010, it acquired Cobiax Technologies, a Swiss company known for its patented construction method for high-performance lightweight concrete slabs.

Cobiax removes unnecessary deadweight of concrete slabs by positioning ball-shaped void formers within the concrete.

The resulting advantages are: lower concrete usage (by up to 30%), lower weight of building structure, and a more environmentally friendly building.

This has allowed architects to design larger and clearer span structures, where the distance between columns can be designed to be up to 18 meters.

This is a great improvement compared to conventional full concrete flat slab system where column-to-column distance typically ranges between 6 to 10 meters.

Long cantilever slab designs are also made possible through adopting the Cobiax technology, as can be seen in some aesthetically stunning structures in Europe.

One project that would have been very challenging to construct without the aid of Cobiax is Park Royal Hotel at Upper Pickering Street, a UOL project with unique architectural features.

Its wavy façade makes construction work highly challenging without the use of Cobiax technology and precast technology.

Joint ventures with leading MNC contractors

One other way that Tiong Seng maintains a technical edge is through joint ventures with leading multi-national construction players.

For example, it had a 40-60 joint venture project at Resorts World at Sentosa with Kajima, Japan's leading construction contractor.

The construction work for the 32-storey NTUC headquarters at Raffles Quay was a joint venture project between Tiong Seng and Samsung, South Korea's leading construction contractor.


"China property market will recover "

Like most other construction contractors, Tiong Seng has forayed into property development the PRC in early 2000.

It has commercial, residential and mixed-use projects in China's second and third tier cities, with projects in:

* Eco-City, Tianjin
* Cangzhou (Sunny International),
* Dagang, Guangang Forest Park, Tianjin (The Equinox)
* City Centre, Tianjin
* New District Xu Shu Guan Development Zone, Suzhou

Property development contributed 13.0% to FY2011 group revenue but there was no revenue recognition in 1H2012. It had S$342 million of development properties on its balance sheet as at 30 June.

Mr Pek explained that there is currently an overhang in China's private housing market because of the tough property speculation curbs in response to public outcry over unaffordable housing prices.

"China's property policy should loosen up when public housing demand is satisfied with the rollout of 36 million affordable housing units over 2011-2015. When this social aspect of the concern is addressed, the situation in the property market in China should improve thereafter.

"China's property market holds much potential in the long term as a large part of the country is still being urbanized," he concluded.

Related story: TIONG SENG HOLDINGS: Record $1.4 Billion Orderbook, Highest Among Listed Contractors