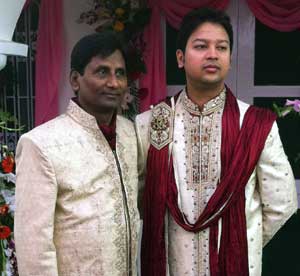 Uttar Pradesh's engineer-in-chief for public works, Shri Tribhuwan Ram, and his son, the groom.
OUR TRAVEL TIME was long but we were rewarded with an unforgettable experience of the finest wedding celebration we had ever been to.
Recently, we flew 5 hours from Singapore to Delhi and then another hour to Lucknow, capital of the 190-million people Uttar Pradesh, India's most populous state.

A colleague who hails from Lucknow was getting married to his Singapore Chinese sweetheart. He is the son of the head of Uttar Pradesh's public works department (which is equivalent to Singapore's Urban Redevelopment Authority).

Romil Singh had invited also a VVIP - Yangzijiang Shipbuilding's executive chairman, Mr Ren Yuanlin, and its chief financial officer, Ms Liu Hua, to the wedding.
The bride, Rachel Ho, runs her own fashion boutique jos+rachel with a friend, Joscelin Kwek.


Experience of a lifetime

Our splendid time started from when we touched down at Lucknow before dawn: We were received by a welcoming party which handed us bouquets and garlands.

We were in for 3 days of elaborate festive celebrations. On the first night, the backyard of the family home was transformed into a black-tie event hall that was more glamorous than some hotel ballrooms for gala award dinners that I've attended in Singapore.
Indians love to dance, and dinner started with cocktails at 8pm, main course at 10pm, professional singers' live performance followed by DJ and jamming into the wee hours.

Everyone danced. The groom's father took the lead - and I had an enjoyable time dancing with him.

Toddlers were on the dance floor. The groom's grandmother with snow-white hair and bent back joined the jam session.
Adolescents and teenagers wriggled to the beat of Bollywood pop music, young working adults did their groove, as did elderly men in formal business suits.
The second night was sangeet, which was a song and dance ritual for the bride-to-be, her female friends and female relatives. The Hindu wedding ceremony of prayers and sanctification took place the next morning.

Then came a lavish dinner for 5,500 guests. "It's as grand as an emperor's wedding," exclaimed Mr Ren. He was not exaggerating.

Amazingly, a 60-meter red-carpeted tunnel with thousands of fresh overhanging flowers opened into a stadium as big as two football fields.

The stadium was filled with elaborately decorated tents. Dining tables were laid out between long tables laden with a myriad of traditional Indian bread, dhals, kebabs, desserts, salads and fruit.
And believe it or not, fireworks reminiscent of Singapore's national day celebrations dazzled the night sky.

Abhijit Sawant, the winner of Indian Idol (Season 1), gave live stage performances of Indian pop ballads to an excited crowd of fans.
A few hundred feet away was another stage - a grander one with a throne set under a domed tent, where Indian dignitaries crowded around and took turns to climb the stage to present the bridal couple with gifts.


It was a freezing wintry night, but the guests were caught in a mood of gaiety and partied into the wee hours.

Departure from India with love

The next morning, we set off on a 7-hour cab ride to see the famed Taj Mahal, one of the 7 wonders of the world, which is also sited in Uttar Pradesh more than 300 km away from our hotel.

There, I understood the history to why the exquisite marble mausoleum Taj Mahal is hailed as an expression of Mughal emperor Shah Jahan's great love for his wife Mumtaz Mahal, who was only my age (38) when she passed away.

This has been a marvellous journey of insight into India's culture for love --- divorces are rare in the country, family ties are strong and eroticism is celebrated.