GSS ENERGY recently suffered a blow to its oil production business in Indonesia when national oil company Pertamina terminated its (Pertamina's) purchase agreement with a village cooperative.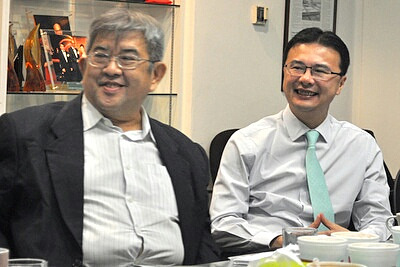 (L-R): GSS Energy CFO Ng Say Tiong and Group CEO Sydney Yeung. Photo by Leong Chan TeikThe reason for the termination was made known at a 1H2015 results briefing last week: The village cooperative (which had engaged GSS Energy unit Cepu Sakti as the production contractor) had been engaged in illegal activities.

Pertamina had issued the village cooperative several warnings in the past.

With the termination, the cooperative in turn cancelled production services that several contractors, including Cepu Sakti, had been providing in the Dandangilo-Wonocolo and Ngrayong Fields in East Java.

GSS Energy and PT Java Petral Energy (which sold a 53.7% stake in Cepu Sakti to GSS Energy last year) have recently worked out a settlement, whose terms include:

* The return and cancellation of 76 million GSS Energy shares issued to Java Petral Energy, and
* The purchase by GSS Energy from Java Petral Energy of the remaining 46.32% stake in Cepu Sakti for a nominal $1.

GSS Energy took a one-off impairment provision of $32.9 million on Cepu Sakti as result of the termination, resulting in a net loss of S$33.3 million at the group level in 1H2015.

GSS Energy has four other oilfields (under Cepu Sakti) in Indonesia which it is trying to convert from the previous arrangement (under the so-called 'old wells' programme) to a production-sharing cooperation (PSC), or KSO in Bahasa Indonesia.

Under a KSO with Pertamina, production costs can be recovered from the subsequent sale of oil, GSS Energy can drill deeper, and the production contracts would be far longer at 20-30 years.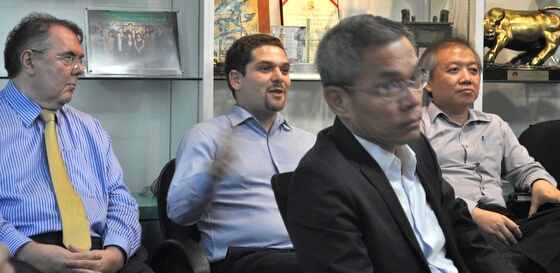 (L-R): Howard James Smith (Director of Operation & Technical, GSS Energy) | Ali Nael, MD of GSS-AFCO | Tan Kay Guan (CEO, Precision Engineering Operations, GSS Energy) | Wong Liong Khoon (Financial Controller, GSS Energy). Photo by Leong Chan Teik

Precision Engineering -- record year?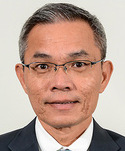 Tan Kay Guan, CEO of precision engineering ops, GSS Energy.While the oil & gas business segment is new to GSS Energy, its precision engineering is the original core.

The latter's 1H2015 performance was solid: Revenue was S$30 million, yielding S$3.12 m in net profit for a handsome margin of 10.4%. This is up from 3.5% last year on revenue of S$31.8 m.
And the net profit is about 3X what was earned in 1H2014.

"We have taken on new products with a good margin. We have retired some of the old products which reached the tail end of their product cycle and margins were low," explained Tan Kay Guan, CEO of precision engineering ops.
The new product mix coupled with cost management and increased automation have helped margins, he added.

GSS Energy continues to diversify across industries and geography, he said. Its outlook is positive, including a one-off boost of RMB27 m (S$5.6 million) in net profit to be recognised this year from the sale of land on which GSS Energy's factory sits in China. The factory is to be relocated.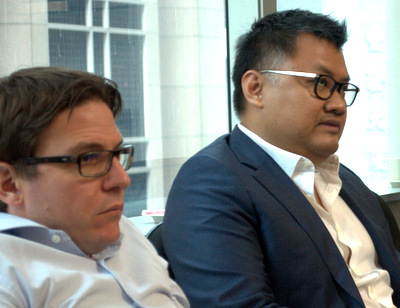 (L-R): Valentin Schillo (GSS Energy deputy CFO) | Suyulianto Badung Tariono (Director of Business Development, GSS Energy). Photo by Leong Chan TeikIn the oil & gas segment, GSS Energy is carrying on with another project of drilling two oil wells in West Jambi, which is expected to be completed by year-end. This is under an agreement with Ramba Energy.

To that end, GSS Energy has recently hired a veteran, Suyulianto Badung Tariono, as its Director of Business Development. He is said to be very well connected.

A third development in the oil & gas space to watch is the start of trading by the GSS-AFCO joint venture in the marketing and distribution of mineral oil and crude products and related businesses in Indonesia.

GSS Energy acts as an agency originating trades, while AFCO brings to the table its profitable track record and its financial muscle as it has large credit lines.