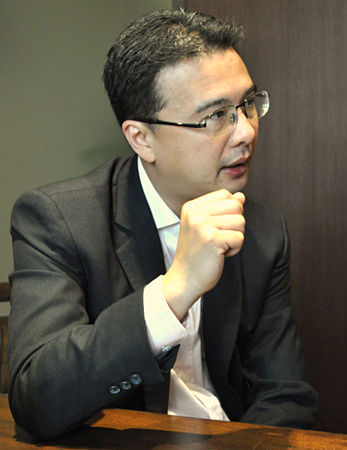 "We target projects that allow us to partner the local or central government," said CEO Sydney Yeung.
NextInsight file photo GSS ENERGY CEO Sydney Yeung wants to make the best of the oil & gas slump to increase its oilfield assets as well as diversify into oil-related trading.
On 19 May, GSS Energy announced its investment of U$5 million to US$7 million to participate in SGX-listed Ramba Energy's project in West Jambi in Sumatra.
This major investment takes place less than a year after it completed the acquisition of onshore old wells drilling contractor Cepu Sakti Energy (last September).
Contribution from its 53.68% stake in Cepu Sakti Energy significantly boosted Group earnings for the 7 months from 1 September 2014 to 31 March 2015: Profit before tax increased to S$2.8 million, up 185% year-on-year.
Other investors in the West Jambi project include Indonesian property and banking magnate Dato Sri Tahir, Hong Kong tycoon Albert Yeung and Indonesian businessman Harry Wangidjaja.
Drilling is expected to commence in the second half of this year at two onshore wells.
An independent 2015 report from international petroleum consultancy DeGolyer & MacNaughton estimated Ramba's West Jambi block holds gross contingent resources (3C) of about 23.1 million barrels of oil, 0.81 million barrels of condensate and 97 billion cubic feet of marketable gas, as at 31 December 2014.
A 3C classification refers to a probability of 10% or more that the inspected quantum of resources are commercially recoverable.
This implies that the oil resource alone translates into an expected value exceeding US$138 million based on the current crude oil price of about US$60 a barrel (10% X 23.1 barrels X US$60).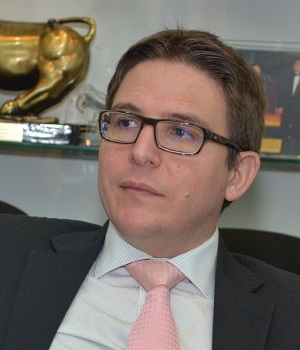 "We expect to realize a one-off gain this year from government acquisition of the land where our precision engineering facility in China is located," said Deputy CFO Valentin Schillo.
NextInsight file photo
Production Sharing

Ramba Energy has a Kerja Sama Operasi (KSO) agreement (a.k.a. Production Sharing Contract, PSC) with Indonesia's national oil company, Pertamina, that gives it the right to explore and exploit the West Jambi block for 20 years starting from 2011.
The project is the first KSO project that GSS Energy is participating in.
The block sits on the northern part of the hydrocarbon-rich South Sumatra basin, a region proven for oil and gas exploration with nearby transportation infrastructure.
"We are operating in fields similar to West Jambi where several old wells are already present," said Deputy CFO Valentin Schillo.
The Group's participation in the West Jambi block adds to its co-operation agreements for oil & gas assets from 5 onshore mature oilfields in Central Java.
Three out of these five oil fields have received the Qualified Person's Report, which has estimated net 3C reserves attributable to Cepu Sakti Energy at 15.8 million barrels of petroleum oil.
The three fields are:
1. Dandangilo-Wonocolo
2. Tungkul
3. Trembul
The Group has 20 oil wells in production currently, with oil production during September 2014 to March 2015 at an average of 900 barrels a day.
In Java, Cepu Sakti Energy has co-operation agreements to extract crude oil from mature oil wells with Village Unit Cooperatives (Koperasi Unit Desa, KUD) or Provincial State Owned Enterprises (Badan Usaha Milik Daerah, BUMD).

Chart: Company

"KSO programs are safer bets when the oil price is at a level that makes cost recovery a concern," said Mr Schillo.
Unlike Cepu Sakti Energy's co-operation agreements, the KSO programs provide for 85% to 90% of cost recovery upon oil production.
"We are in talks with surface drilling companies, who will pay for the drilling cost first. These drilling companies will only get paid when GSS Energy gets paid," said Mr Yeung.
"The cost of drilling the two wells in West Jambi will add up to the cost of our investment in the block," he said.

Foray into oil distribution
On 1 June, GSS Energy inked a shareholders agreement to trade in crude-related products.
Its intends to leverage on the global network of its joint venture partner, AFCO Energy, the international trading subsidiary of FinCo Fuel Holding BV.

Finco Fuel is a fairly large Dutch company in Holland specialising in the storage, trading and distribution of oil and oil-related products in Europe and Asia while AFCO Energy is a Singapore oil trading company with more than 1.4 million metric tons of oil products traded in FY2014.
It has a global presence and its products include fuel oil, gas oil, gasoline, jet fuel, liquid petroleum gas and its related components.
GSS Energy and AFCO Energy will jointly invest in GSS-AFCO to bring mineral oil and crude oil products into Central Java.

"We expect oil trading revenue to kick in this year," said Mr Yeung.