Excerpts from analysts' reports
CIMB: "SembCorp Industries is our new top big-cap pick; Swissco, our top small-cap pick"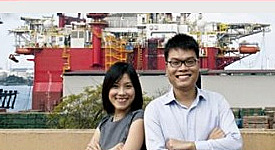 Analysts: Lim Siew Khee & Yeo Zhi Bin (left)

During our recent marketing trips to Tokyo, Malaysia and Hong Kong, we found investors with exposure to SMM and KEP lamenting the unexciting rig-building outlook amidst sliding oil prices. More concerns were on SMM given its weak share price performance YTD (-20%) and lacklustre order momentum. Investors were also curious about the sustainability of the OSV cycle in view of the potentially softening jack-up rigs market in 2016. In view of the lull in jack-up orders, we maintain Neutral on the sector. Sembcorp Industries is our new top big-cap pick while Swissco is our top small-cap pick.

What We Think
The common questions asked on the Singapore O&M and capital goods were on 1) the impact of oil prices on the sector; 2) whether we will see more downside on SMM's share price given its weakness YTD; 3) why KEP's share price has not been moving despite its decent order win; 4) whether margin pressure among the rig builders is here to stay with more Brazilian work; 5) why the Chinese yards are facing delays; 6) whether there are more share price upside on Nam Cheong; 7) how Pacific Radiance compares with other OSV players; 8) how long the OSV cycle will last; 9) whether EOCL's margin can really improve; 10) whether the supply of new jack-up rigs in 2015/16 will cannibalise the older rigs and impact Ezion and Swissco.
What You Should Do

Sembcorp Industries is our top big-cap pick as its recurring utilities earnings and upcoming new power projects. It is also less susceptible to oil price movements relative to SMM and KEP. We believe the market may not have priced in India's contribution and the potential of bottoming power prices in Singapore as new capacities are significantly completed by 1H14. We see catalysts from the start-up of its first 660MW boiler in India by end-14. Swissco is our small-cap pick due to its explosive growth. It is on track to double its fleet size to 16 units in 2015.

Swissco under-owned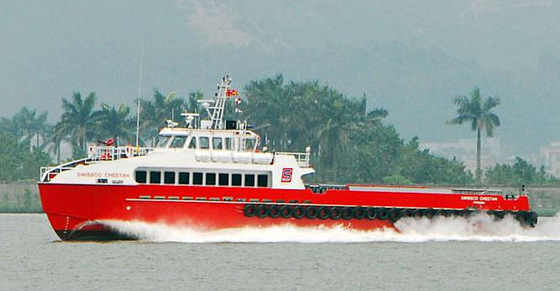 Swissco Cheetah: Capable of carrying 50 tonnes of deck cargo and 70 passengers.
Photo: http://shipbuildingtribune.com/

Investors were concerned that the new jack-ups flooding the market would cannibalise Swissco's old rig fleet as well as put pressure on rates. We believe Swissco's low-entry costs (US$60m-80m/rig) and long-term contracts (3-5 years) enable the company to recover at least 80% of its capex during the first charter contract.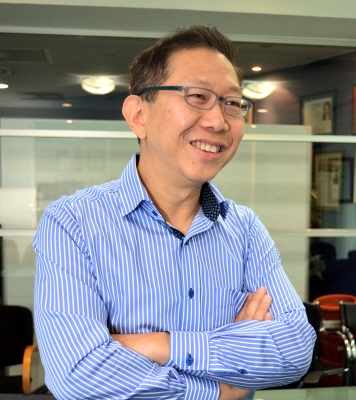 Alex Yeo, CEO of Swissco.
NextInsight file photo.In addition, the rigs that it operates are for wells in Mexico with up to 40 years of production.

Oil majors are also less inclined to switch operators given the costly mobilisation and demobilisation fees of US$10m, on average. Among the small caps, we prefer Swissco over Ezion, although both command similar valuations (7x CY16 P/E, 1.9x P/BV).

We think Swissco could benefit from the contract win newsflows given its lower base. With the group's explosive growth and ability to connect the dots ala Ezion, we recommend that investors back the "master".

After all, Ezion's seeds germinated in KS Energy, which was one of the pioneers for rig and liftboat leasing. That essence is now effectively in Swissco following recent corporate actions. Faster-than-expected contracts could catalyse the stock.

Full CIMB report here.

Recent story: SWISSCO: Oil rig leasing to contribute significantly to earnings