Photos by Leong Chan Teik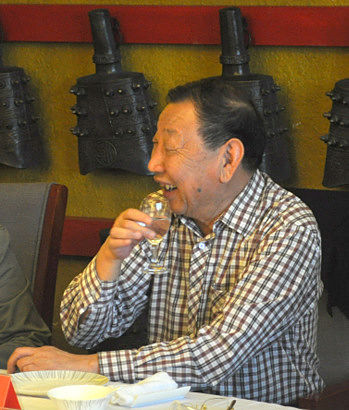 China Sunsine executive chairman Xu Cheng Qiu @ lunch with Singapore media, analysts and investors last week.Some 7 years after its listing on the Singapore Exchange in 2007, China Sunsine has grown its capabilities and production capacities substantially, as its chairman Xu Cheng Qiu highlighted to a visiting media-analysts-investors group from Singapore last week.

During its IPO, the company had operations in Shanxian only in Shandong province. Now, it has facilities in Dingtao and Weifang, both in the Shandong province.

From 26,000 tonnes in annual production capacity for rubber accelerators, the company now can produce about 75,000 tonnes.

In fact, it has become the world's largest producer of these chemicals, clinching the No.1 spot occupied by Lanxess Corp of Germany and counting 45 of the world's top 75 tyre manufacturers among its clients.

(Rubber accelerators are chemicals that are used to cure rubber and enhance its durability and resistance in products such as tyres.)

China Sunsine now also has sizeable production capacities for related products used in tyre manufacturing: 20,000 tonnes of insoluble sulphur and 30,000 tonnes of antioxidants a year.

Where it matters most, the company has also delivered results. In FY06, the year before its IPO, China Sunsine's net profit after tax was RMB63.3 million. This year, it is expected to hit about RMB224m (+192% y-o-y), according to an AmFraser Securities' report in May this year.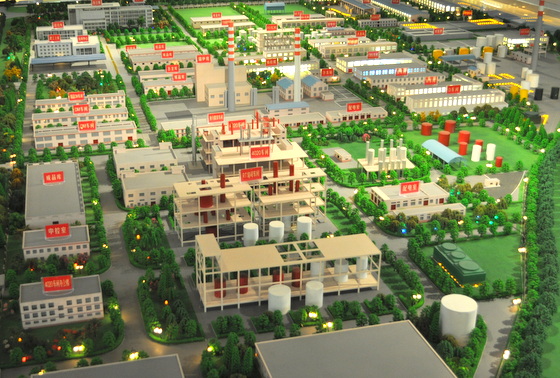 @ Shanxian where China Sunsine's primary operations are sited: It has steadily expanded its production capacity, especially with the IPO gross proceeds of S$46.8 million raised in Singapore. Above: a model of its facilities and sprawling grounds.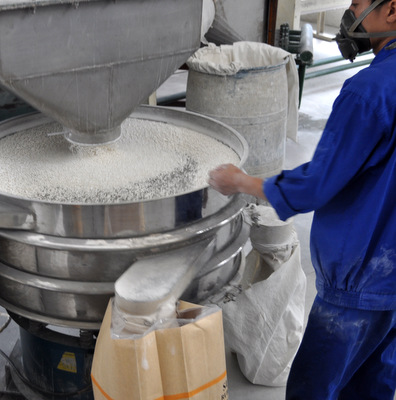 @ Weifang plant: A worker packs a variety of rubber accelerator, CBS. There are various types of accelerators used in the making of different types of tyres (such as winter tyres, sports tyres, normal tyres, etc).The share price of China Sunsine has surged 79% since end-June this year, from 24 cents to 43 cents recently.

The rise was sparked by earnings jumps in 1Q and 2Q, and greater investor appreciation of a key development in the rubber accelerators industry in China: Many producers have been suspended by the government because they discharged highly pollutive effluent into the environment.

It has been reported that about a third of the industry's production capacity of MBT, an intermediate product in the making of many types of rubber accelerators, has been taken out.

As a result, Sunsine, which has been investing in water treatment facilities all these years to the tune of about RMB100 milion out of a cumulative RMB800 million in property, plant and equipment (PPE), has gained market share. It also enjoys higher gross margins (22.6% in 1H2014 versus 18% in 2013).

For more on this environment angle, take a close look at the pictures on this page.

Also, check out:
♦ CHINA SUNSINE: Peer issues profit guidance of 100-130% jump for 1H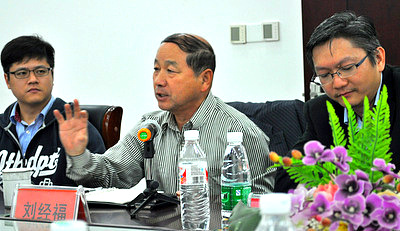 CEO Liu Jing Fu (centre) flanked by financial controller Tong Yiping (left) and independent director Koh Choon Kong.In his opening remarks at a meeting with the media, analysts and investors (who paid their way there), China Sunsine's CEO, Liu Jing Fu, said the company was optimistic about its 3Q performance and hoped that the company's share price would better reflect its business fundamentals after being out of line in the last few years.

Can key competitors make a comeback?

Mr Liu replied that China is enforcing even higher environmental standards with a new law that takes effect from next January.

The new law will allow for stiffer fines against polluting companies, detention of negligent executives, protection for whistleblowers, and penalties for officials who fail to enforce laws. (Source: The Economist)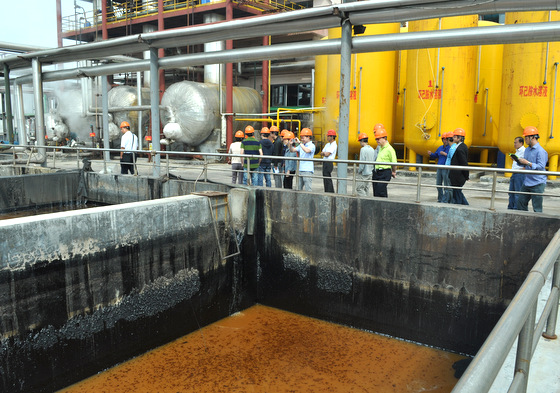 A water treatment facility in China Sunsine's plant in Weifang: The effluent is treated and then piped to a government central treatment site for further cleaning.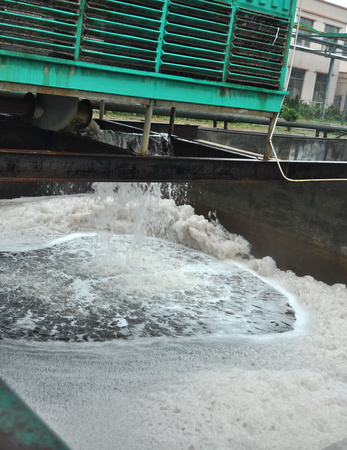 @ Shanxian plant: Effluent from the production of rubber accelerators is extensively treated with biological agents as well as chemicals before the water is discharged into a nearby river.Regarding a key competitor which was directed by the authorities to relocate from Tianjin (100 km from Beijing) a few years ago to the Tianjin Binhai Economic Zone, he said it faces restrictions in producing MBT as the production process results in highly pollutive effluent.

Another competitor is also located in the vicinity. Their ability to scale up production of rubber accelarators is limited and they have to rely on MBT supplies from third parties.

Even then, some of the bigger suspended producers can be expected to eventually resume operations after installing the necessary wastewater treatment facilities.

For an idea of what this entails, study the pictures of China Sunsine's facilities on this page.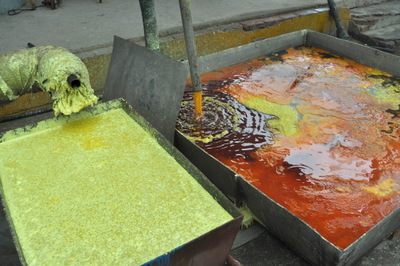 The production of rubber accelerators produces toxic hydrogen sulphide gas which China Sunsine converts into steam (for drying moist rubber accelerators) and molten sulphur (left). The latter is recycled as a raw material in producing MBT, an intermediate product of rubber accelerators.
Sunsine is the first in the industry to install this equipment and its technology is the most advanced. The company recycles 12,000 tons of sulphur per year, resulting in savings of about RMB12m (assuming market price of sulphur is RMB1,000 per ton). The producers will incur capex and new operating expenditures, which could limit the chances of the current elevated accelerator prices in the industry being subject to severe slashing.

China Sunsine will, meantime, continue to enjoy lower unit production cost owing to its higher economies of scale.

And it continues to be able to produce 45,000 tonnes of MBT a year as feedstock for 60,000 tonnes of rubber accelerators.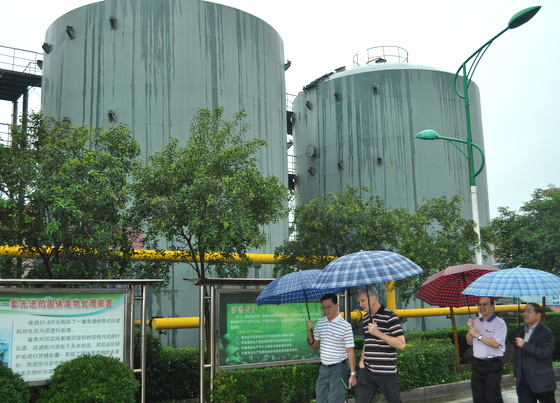 Treating wastewater is land- and capex-intensive. Seen in China Sunsine's plant in Shanxian were large tanks for treating waste solids which have been separated from liquid wastewater.


@ Shanxian meeting with CEO Liu Jing Fu and senior management.

Moving on to China Sunsine's near-term plans, Mr Liu said it has plans to increase the production capacity of rubber accelerators, insoluble sulphur and anti-oxidants.

In its Shanxian, Dingtao and Weifang plants, there is scope for expanded production capacity, which will lead to lower unit production costs.

But isn't there overcapacity in the industry? Mr Liu said there is overcapacity in many industries in China but consolidation is taking place which will see smaller players dropping out.

Financial controller Tong Yiping added that there is in fact a supply shortage of rubber accelerators currently arising from the suspension of operations of those which cannot meet environmental protection standards.

That explains why the average selling prices (ASP) of MBT-based accelerators have gone up since the end of 2013. China Sunsine's ASPs have risen from RMB18,230 per tonne to RMB20,410.

But investors should not overlook the stiff price competition in other two products -- insoluble sulphur and anti-oxidants -- as revealed during the discussion.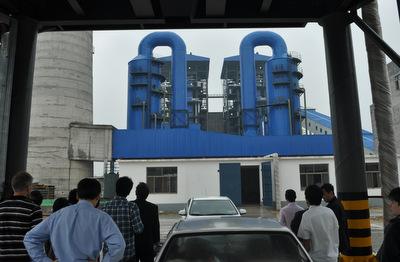 This new coal-fired utility plant in Shanxian will start operations next month, producing high-pressure steam to drive turbines to generate electricity. The resulting low-pressure steam will be channelled to dry moist rubber accelerators. There will be surplus electricity and steam for sale to factories in the same industrial estate. All in, China Sunsine will reap RMB25-30 million in annual cost savings and profit, according to CIMB estimates.Asked about the direction of its level of bank borrowings, Mr Liu said the company had invested about RMB150 million this year on a central heating plant in Shanxian Chemical Industrial Zone (see picture and description of role).

Going forward, it reckons its debt level can dip below the RMB319 million sum as at end-June.

Notably, the company has eschewed raising debt through selling new shares (which would have diluted shareholders) and instead has successfully secured loans from banks despite the tight credit environment.

A study of China Sunsine's balance sheet shows that its loans are almost matched by RMB133 m cash and RMB 171 m notes receivables (as at end-June 2014) from its customers as security against their purchases.

These bank-issued notes receivables can be presented by China Sunsine, before maturity, to the relevant banks and realised as cash -- or they can be assigned to China Sunsine's suppliers of raw materials in lieu of normal forms of payment.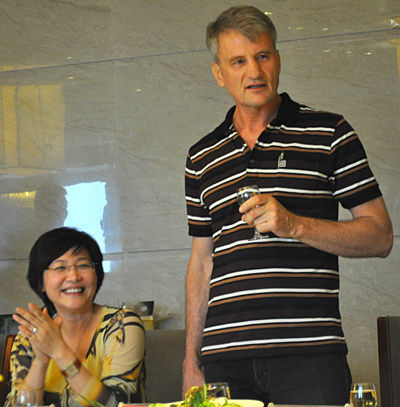 Substantial shareholder Robert Stone (8.388 million shares, as stated in the 2013 annual report), when asked to say a few words during lunch, said: "I invest in a number of companies in China and the region, and China Sunsine is one that concerns me the least because of the management's ethics." (Next to him is Jennie Liu, the investor relations manager of China Sunsine)Put in perspective, China Sunsine's net gearing is not excessive at 21.8%.

And the company's chairman, Mr Xu, has personally guaranteed RMB 120 million of the loans.

All that investment has lifted the company to an elevated position. "China Sunsine has grown at about 30% CAGR in the past 15 years and and is now at a stage where it is not expected to grow at such a high rate in the next 15 years. We will strive for long-term sustainable growth," said Mr Liu.

He added that the company's culture is quite different from some China companies' in that it seriously considers the interest of all stakeholders -- including shareholders, employees, and the government, which is why it pays its corporate taxes diligently.

And shareholders? They have received 1 Singapore cent a share as dividend every year since the company's listing -- even in tough years when profits were down owing to lower product selling prices.

The company has bought back 26 million shares which it holds as treasury shares. Certainly, they have appreciated substantially in value and would be valuable currency in any M&A or placement exercise.


Recent story: Heading Up To China To Visit CHINA SUNSINE