Source: GSH annual report 2013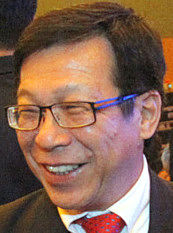 Mah Bow Tan.
File photoFormer Cabinet minister Mah Bow Tan, 65, has increased his stake in GSH Corporation, becoming its No. 5 biggest shareholder.

The newly-released 2013 annual report shows that Mr Mah owned (as at 18 Mar 2014) 365,575,000 shares with a current market value of about S$28 million (based on stock price of 7.7 cents).

In the 2012 annual report, his shareholding was 165,000,000 shares and he was the No.6 largest shareholder.

The increase can largely be attributed to a 1-for-1 rights issue that took place in May 2013.

It appears that Mr Mah subscribed for his entitlement of 165 million rights shares and successfully applied for 35,575,0000 excess rights shares that were not subscribed by other shareholders.

If the latter did not take place, then it follows that Mr Mah bought the 35,575,000 shares on the open market.

Mr Mah first appeared in the top 20 shareholder list of the 2012 annual report of GSH (previously JEL Corporation).

It was in 2012 that Sam Goi was appointed the new chairman, and GSH set off to develop property as its core IT distribution business was not giving good returns.

Aside from Mr Mah, another notable item in the 2013 shareholder list is the emergence of Far East Organization as a substantial shareholder with a stake of 5.06 per cent.

This is held through investment vehicle Goodview Properties, which bought 500 million shares in August 2013 at 7.25 cents apiece in a married deal.


Currently, GSH is developing three properties in Kuala Lumpur and Kota Kinabalu.

It also owns a 77.5% stake in Sutera Harbour Resort in Kota Kinabalu, comprising two 5-star hotels -- the Pacific Sutera and Magellan Sutera Resort, a 104-berth marina and 27-hole championship golf course.

GSH said the property business will start contributing in the current financial year.

It did not specify which project but the only project that is mentioned for launch this year is the The Vista @ Sutera, a high-end residential condo development alongside the Sutera Harbour Resort.

The ocean-front project would be launched in the second half of this year with a gross floor area of 1.3 m sq ft (net sellable area: 1.1 m sq ft).
If sales turn lively, GSH will have a chance to justify the market cap of S$760 million that it currently commands.

However, it is puzzling how GSH would be able to recognise revenue and profit from The Vista @ Sutera this year since overseas projects are only recognised upon completion -- instead of by the progressive method for residential projects in Singapore.

In any case, GSH needs to do much better than the US$1.2 million loss attributable to shareholders last year.

Its 2013 revenue was US$89.4 million, a 12.9% decline year-on-year, and derived completely from its IT distribution business


Previous story: GSH (fka JEL) sale by Koh Boon Hwee; ANWELL buys Thai electricity biz