Main reference: Story in Sinafinance

ONE INVESTOR is very bullish on Hong Kong shares, and even gives one in three odds that the benchmark index will more than double by the end of 2015.

A Morgan Stanley analyst recently told a large gathering of fund managers gathered in the Special Administrative Region (SAR) that the Hong Kong's benchmark Hang Seng Composite Index reaching the 50,000 point level by the end of 2015 was not out of the realm of possibility.

That is likely the most bullish forecast out there by any research house, and would represent a nearly 117% surge from present levels if realized.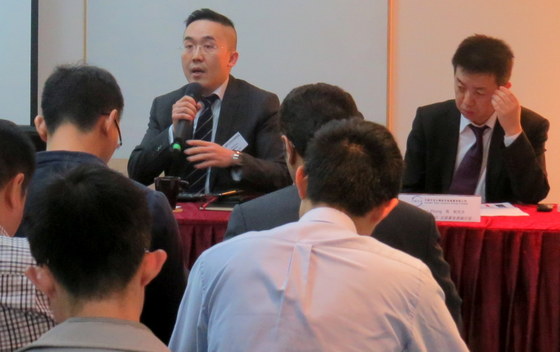 Comtec Solar CFO Keith Chau replies to investor queries in Hong Kong with Chairman John Zhang to his left. Comtec's shares have surged 58% since April 8. Aries Consulting file photo

The Hang Seng Index closed last week at 23,083, having recessed on Friday to commemorate Buddha's birthday.

The benchmark tracker of shares is currently up nearly 22% from year-earlier levels, and has added around 2% since the beginning of 2013.

The analyst got a lot of attention from conference attendees not only for making the bold prediction that Hong Kong shares could more than double in value in just two and a half years.

But he also gave listeners a lesson in history, saying that market behavior over the Hang Seng's 44-year history pointed to another possible major bull run on the horizon.

Despite many scoffing at the bullish prediction, especially given the sluggish economic recoveries in the US and Europe as well as slower-than-expected growth in Mainland China, there is precedent for prolonged bull runs over the Hang Seng's history.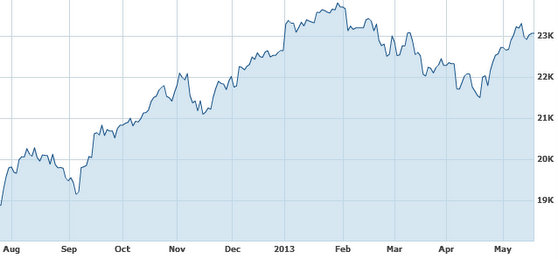 Hong Kong shares' recent performance. Source: Yahoo Finance

The most previous example was between late 2008 and early 2011 when the Index added 121%, getting its start just as the full extent of the Wall Street meltdown became fully known.

Prior to that run, Hong Kong's stock market skyrocketed some 132% between early 2005 and late 2007.

When pressed by the curious onlookers for some odds-making, the analyst said the likelihood of another such triple digit percentage-point increase by end-2015 becoming reality was around 33%.

He added that the Hong Kong authority's ongoing attempts to control property price inflation and speculation are having a positive knockdown impact on equities as investors exit real estate projects and dump more money into the local stock market.

Hong Kong's bourse is heavily populated with H-shares, which are PRC-based firms selling shares in the SAR.

Therefore, as goes the Mainland Economy, so goes the Hang Seng Index.

The new national government in Beijing is repeatedly pushing for more pro-growth policies and urging greater tapping of China's 1.3 billion consumer strong domestic market,

It therefore only stands to reason that barring unforeseen external shocks, Hong Kong shares – whether local equities or H-shares – will benefit across the board from healthy growth in the world's most populous country.

---

See also:

China Bull Market In The Making?