BLUEFOCUS, BJ ULTRAPOWER, OURPALM -- All 'Buys'
Written by The NextInsight Team
Saturday, 07 December 2013 08:00
BlueFocus Communication, Beijing Ultrapower Software (left) and mobile content firm Ourpalm all made Goldman Sach's A-share Conviction List with "Buy" calls. Read more... CHINA'S TOP PR play
CHINA WINDPOWER'S Big Solar Push; CHINA RUIFENG Riding On Wind
Written by The NextInsight Team
Friday, 06 December 2013 12:30
CHINA WINDPOWER continues its solar power diversification with nearly 500 million yuan in new loans for an extra 70MW in photovoltaic projects. Meanwhile, fellow HK-listco China Ruifeng is focusing more on wind power, says Bocom.  Read more...
SWISSCO: Stock Price Up 6.6% On Aggressive Fleet Expansion
Written by Sim Kih
Friday, 06 December 2013 07:00
SWISSCO'S STOCK price jumped by 6.6% overnight to 32.5 cents after it made its second announcement on newbuilding orders in 3 weeks. The stock price has surged some 20% in the past 2 months as the market responded positively to its announcements of charter contracts and fleet expansion. Read more...
How to do quick checks of listco news
GOOD NEWS! We have created a means for you to do quick checks of the latest listco announcements. Just click on the LISTCO NEWS button in the menu at the top of our website.
Tech Tally: JU TENG, LENOVO Both 'Buys'
Written by The NextInsight Team
Thursday, 05 December 2013 12:00
Ju Teng a "Buy" call, saying the world's largest computer and handset casings play is "on track for margin expansion." Meanwhile, Kingston also gives fellow HK-listco Lenovo – the world's top-selling PC brand – a "Buy" recommendation.  Read more... UBS GIVES
TIONG SENG Wins $204.5m HDB Job, WE HOLDINGS Buys PRC Rival
Written by Sim Kih
Thursday, 05 December 2013 07:00

TIONG SENG has secured a construction contract worth S$204.5 million from HDB for public housing. WE Holdings has inked a deal to acquire a competitor which is China's largest distributor of Kemet capacitors. Read more...
HUANG XI: Former Math Teacher Now Self-Made Property Mogul
Written by Andrew Vanburen (China Correspondent)
Wednesday, 04 December 2013 12:00
Read more... MS. HUANG XI is perhaps the booming coastal Chinese city of Xiamen's best known property developer. But that doesn't mean the 51-year-old former middle school math teacher with a net worth of 1.3 billion usd is particularly media friendly. 
LIAN BENG: Directors Pump Millions In Insider Buying
Written by Sim Kih
Wednesday, 04 December 2013 07:00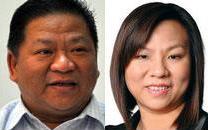 LIAN BENG DIRECTORS have once again been pumping millions into buying the company's shares over the past year. In the latest move on 18 November by its family office, 400,000 shares were purchased from the open market for S$217,000. Read more...
Page 1 of 439