GP BATTERIES: Potential Turnaround Play
Written by Ernest Lim, CFA, CA | Monday, 28 July 2014 12:05

SINCE MY WRITE-UP on Gallant Venture in late Apr / early May, I have been looking at several companies, one of which caught my eye -- GP Batteries. Read more....
CSE GLOBAL: UOB Kay Hian Initiates Coverage With 88-C Target
Written by Andrea Isabel Co, CFA (UOB Kay Hian) | Monday, 28 July 2014 06:25

WE SEE A leaner and refocused CSE post-divestment of its healthcare unit and decamping from unprofitable Middle East projects. The stock offers the highest yields of 3.6-4.2% in the sector. Fragmented shareholdings make it an attractive takeover target. Read more...
@ VALUETRONICS' AGM: "Why Hold So Much Cash?" And Other Questions
Written by Leong Chan Teik | Sunday, 27 July 2014 12:06
Read more... Q @ AGM: The company's cash holding is huge -- almost 50% of the recent market cap. You can buy back shares or you can do capital distribution. Shareholders are asking why is there so much cash sitting idly and there's a suspicion over where it's real or not real.
Chan Kit Whye: TIGER AIR Shares Could Be "Technically Worthless"
Written by Chan Kit Whye | Sunday, 27 July 2014 06:32

ON ITS BALANCE sheet, its accumulated losses have already wiped out all its ordinary share capital, leaving $218 million perpetual convertible capital securities. Read more...
Hi-P To Turn Around Spectacularly In 2H, Says DBS Vickers
Written by Tan Ai Teng (DBS Vickers) | Saturday, 26 July 2014 12:07

WE SENSED that the company will benefit from the typical strength in the seasonally stronger 2H. Read more...
AROSSA GRILL & WINE BAR: Italian Cuisine With Japanese Influence
Written by Tok Chong Yap | Saturday, 26 July 2014 06:30
Tucked away in a corner at Scotts Square, Arossa Grill & Wine Bar is quite a rare gem within the busy shopping district of Orchard. It has another rarity: A lady chef in the male-dominated Japanese culinary world. Read more...
ASIATIC: Landmark Biomass Power Plant Starts Generating Electricity
Written by Leong Chan Teik | Friday, 25 July 2014 12:06

DAILY, A FEW hundred tonnes of empty fruit bunches from nearby palm oil mills are transported to Asiatic's new power plant where they are used to generate electricity. Read more....
CHIP ENG SENG "Poised For Another Record Run Over The Next Two Years"
Written by The NextInsight Team | Friday, 25 July 2014 06:26

OSK-DMG thinks Chip Eng Seng Corp is poised for a record run over the next two years as several of its residential and mixed development projects in town reach completion or T.O.P. Read more...
AUSGROUP Forays Into Marine Logistics With Acquisition Of Ezion Port
Written by Sim Kih | Thursday, 24 July 2014 12:00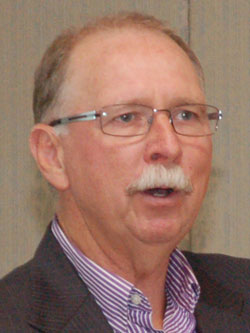 AusGroup is in a deal that will extend its capabilities in the marine & offshore, oil & gas industry to include operation of a port, a marine supply base, a chartering fleet and workforce training. Read more...
TREK 2000 In US$25m Deal With Rely/Mattel; SWISSCO M&A With Rig Owner
Written by Sim Kih | Thursday, 24 July 2014 06:30

TREK 2000 SHARES have surged by 20% after it announced a US$25 million deal with global leader in toy manufacturing, Mattel. Meanwhile, Swissco shareholders approved its M&A with Scott and English Energy. Read more...
Visit NextInsight on Facebook
Legal Responsibilities of Directors, CEOs, CFOs & External Auditors
Written by Leong Chan Teik | Wednesday, 23 July 2014 12:08

HARDLY A YEAR goes by without investors having to confront news of some lapse in corporate governance in a SGX-listed company. So, let's get back to the basics on who has what role and duty in a listed company, in this Q&A piece with lawyer Robson Lee. Read more....
Kevin Scully: "Likely That Something Is Brewing @ INNOTEK"
Written by Kevin Scully (NRA Capital) | Wednesday, 23 July 2014 06:33

IT APPEARS likely that something is brewing. With its NAV at S$0.69 as at the end of Q1-2014...it's worth waiting to see what will happen. Read more....
CHINA MERCHANTS HLDGS: DBS Vickers Says Expressway Acquisition Is Positive
Written by Paul Yong, CFA (DBS Vickers) | Tuesday, 22 July 2014 12:00

IF SUCCESSFULLY completed (this is the second attempt to buy Jiurui Expressway), this would be a good acquisition for China Merchants Holdings (Pacific) as it would
expand and diversify the Group's business, etc. Read more....
Page 1 of 285