ASIATIC: Landmark Biomass Power Plant Starts Generating Electricity
Written by Leong Chan Teik | Friday, 25 July 2014 12:06
DAILY, A FEW hundred tonnes of empty fruit bunches from nearby palm oil mills are transported to Asiatic's new power plant where they are used to generate electricity. Read more....
CHIP ENG SENG "Poised For Another Record Run Over The Next Two Years"
Written by The NextInsight Team | Friday, 25 July 2014 06:26
Read more...
OSK-DMG thinks Chip Eng Seng Corp is poised for a record run over the next two years as several of its residential and mixed development projects in town reach completion or T.O.P.
AUSGROUP Forays Into Marine Logistics With Acquisition Of Ezion Port
Written by Sim Kih | Thursday, 24 July 2014 12:00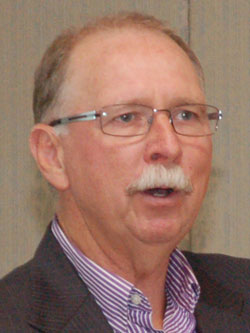 AusGroup is in a deal that will extend its capabilities in the marine & offshore, oil & gas industry to include operation of a port, a marine supply base, a chartering fleet and workforce training. Read more...
TREK 2000 In US$25m Deal With Rely/Mattel; SWISSCO M&A With Rig Owner
Written by Sim Kih | Thursday, 24 July 2014 06:30

TREK 2000 SHARES have surged by 20% after it announced a US$25 million deal with global leader in toy manufacturing, Mattel. Meanwhile, Swissco shareholders approved its M&A with Scott and English Energy. Read more...
Visit NextInsight on Facebook
Legal Responsibilities of Directors, CEOs, CFOs & External Auditors
Written by Leong Chan Teik | Wednesday, 23 July 2014 12:08
Read more....
HARDLY A YEAR goes by without investors having to confront news of some lapse in corporate governance in a SGX-listed company. So, let's get back to the basics on who has what role and duty in a listed company, in this Q&A piece with lawyer Robson Lee.
Kevin Scully: "Likely That Something Is Brewing @ INNOTEK"
Written by Kevin Scully (NRA Capital) | Wednesday, 23 July 2014 06:33
IT APPEARS likely that something is brewing. With its NAV at S$0.69 as at the end of Q1-2014...it's worth waiting to see what will happen. Read more....
CHINA MERCHANTS HLDGS: DBS Vickers Says Expressway Acquisition Is Positive
Written by Paul Yong, CFA (DBS Vickers) | Tuesday, 22 July 2014 12:00
IF SUCCESSFULLY completed (this is the second attempt to buy Jiurui Expressway), this would be a good acquisition for China Merchants Holdings (Pacific) as it would expand and diversify the Group's business, etc. Read more....
RHB-OSK-DMG Analyst Lee Yue Jer Weds Kee Vern Cheng
Written by Sim Kih | Tuesday, 22 July 2014 06:30
| | |
| --- | --- |
| | RHB-OSK-DMG analyst Lee Yue Jer, 28, who covers marine stocks like Keppel Corp, SembCorp Marine, Yangzijiang, XMH and MTQ, has just gotten married. His bride is buy-side analyst Kee Vern Cheng. Read more... |
KIM HENG OFFSHORE: Phillip Capital sets 33-c target In Initiation Report
Written by Benjamin Ong (Phillip Capital) | Monday, 21 July 2014 12:01
Read more...
WE INITIATE coverage on Kim Heng with a "Buy" rating based on our P/E valuation of 11X FY14 Earnings, in line with small/mid cap offshore and marine players, with a TP of S0.33.
OXLEY: Substantial Shareholder Buys Shares Following Price Fall
Written by Leong Chan Teik | Monday, 21 July 2014 06:34
TEE WEE SIEN's recent spate of buying of Oxley Holdings' shares -- amounting to about S$450,000 -- has attracted notice perhaps because it took place after the cancellation by Oxley of two land deals in Malaysia. Read more...
OSK-DMG Expects ValueMax's Net Profit To Jump 45% This Year
Written by Jarick Seet (OSK-DMG) | Sunday, 20 July 2014 12:08
Read more....
WE INVITED more than 20 fund managers to a tour of ValueMax's headquarters in Bedok, where it has a standalone second hand jewellery shop and a pawnshop.
How to do quick checks of latest listed company news
GOOD NEWS! To do quick checks of the latest listco announcements, just click on the LISTCO NEWS button in the menu at the top of our website.
TRITECH: Fascinating Views Of Its Marble Quarry Operations
Written by Leong Chan Teik | Sunday, 20 July 2014 06:31
THE JUST-RELEASED FY2014 annual report of TriTech Group contains fascinating pictures of its marble quarry in Kelantan, Malaysia, where commercial production is being stepped up. Read more....
Page 1 of 285