Excerpts from UOB KH report

Analyst: Adrian Loh

YANGZIJIANG Shipbuilding (Holdings) (YZJSGD SP)
Continues To Execute Well

YZJ continues to execute well, delivering 18 vessels in 2Q22 to date. In our view, this operational performance is impressive given the challenges that the company has faced due to China's "dynamic zero-COVID" strategy.


YANGZIJIANG

Share price:
94.5c

Target:
$1.16
As a result, YZJ should be able to hit or even exceed its target of delivering 60 vessels this year.

Trading at 2022F PE of 5.4x and yielding 4.7%, YZJ is a compelling and defensive stock.

Maintain BUY. Target price: S$1.16.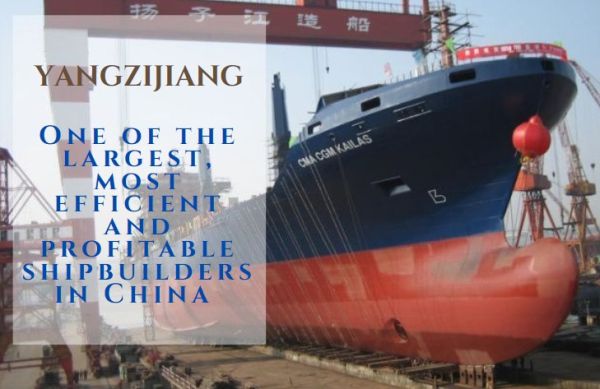 WHAT'S NEW
• Executing well in 2Q22. Our channel checks indicate that Yangzijiang Shipbuilding (Holdings) (YZJ) has had a very busy 2Q22 to date with 18 vessels having been delivered (see table overleaf).

Importantly, we note that three of its 2Q22 deliveries were for the larger class of containerships (ie larger than 10,000TEU), which we believe should generate higher shipbuilding margins for YZJ in 2022.

• Impressive operational performance, especially in light of external hurdles. In our view, these deliveries are even more impressive in light of the challenges that it and its suppliers have faced due to China's "dynamic zero-COVID" strategy with disruptions and delays to the domestic and international supply chain as well as labour issues.


"Assuming that YZJ maintains a payout ratio of 25% for 2022 (2021: 26%), the stock would yield 4.7% and thus provide downside support to the share price."
-- Adrian Loh, UOB KH analyst
YZJ had previously disclosed that it has a target of delivering 60 vessels in 2022 – given that 34 of these vessels have been delivered thus far, the company could potentially exceed this and achieve its stretch target of 70 vessels.

• New Changbo yard at full capacity. YZJ disclosed that its Changbo yard, restarted at the beginning of 1H21, is already working at full capacity. Being a smaller yard, it has been deployed towards the construction of smaller-sized vessels.

In the past 12 months, the yard has completed and delivered two 1,800TEU containerships with a third one tentatively scheduled for 27 Jul 22.

• Shipping business continues to perform well. YZJ's fleet of 26 vessels generated a solid 40% gross margin in 2021 on the back of a 32% yoy increase in revenue. Management expects this segment to continue to perform strongly in 1H22 and highlighted that with an average age of eight years, it is a young fleet.

• New order wins. According to industry sources, YZJ may be in line to win new orders for LNG or dual-fuelled neo-Panamaxes (12,000-14,000TEU containerships), 64,000dwt bulk carriers and possibly LNG carriers.

STOCK IMPACT
• YZJ completed the spin-off of YZJ Financial Holdings (YZJFH SP, Not Rated, S$0.43) in Apr 22 via a distribution in specie, representing a dividend distribution of Rmb20b (S$4.26b) or S$1.09/share by YZJ itself.

Post its listing, YZJFH has no debt and around S$4.2b in cash and short-term investments. At its current 2021 P/B of 0.5x, it is trading at the low end of its
peers' P/B trading range of 0.5-2.1x.

YZJ has historically generated strong operating cash flows from its debt investments business, which should support its proposed dividend policy of at least 40% of net profit after tax.

EARNINGS REVISION/RISK
• Our earnings estimates have been adjusted due to the demerger of the debt investments business. However we have not made any changes to our profit margin or earnings assumptions for the shipbuilding, ship chartering or trading business.

VALUATION/RECOMMENDATION

• Maintain BUY with an SOTP-based target price of S$1.16, which has been adjusted down post the demerger of its debt investments business into YZJFH. We have used a 8x and 5x multiple for its shipbuilding and trading & other business segments respectively, thus arriving at a S$1.13 and $0.08/share valuation for these two segments (see table below).

By using publicly-sourced replacement cost for its shipping assets, we value this segment at Rmb4.4b or $0.24/share – this is double that of the company's carrying cost of these assets, or approximately 3x higher than its book value of $0.09 as at end-21.

At our target price, YZJ would trade at a 2022F PE of 6.7x which we do not view as stretched.

• Inexpensive valuations. YZJ currently trades at a 2022F PE of 5.4x which is a 17% discount to, and 1SD below, its five year average of 6.6x. While its 2022F P/B of 1.1x is higher than its past five-year average of 0.7x, we highlight that the company is forecast to increase its ROE from 10.8% in 2021 to 12.8% in 2022.

In addition, assuming that YZJ maintains a payout ratio of 25% for 2022 (2021: 26%), the stock would yield 4.7% and thus provide downside support to the share price.

SHARE PRICE CATALYST
• Evidence of margin expansion from 1H22 onwards.
• New orders in higher margin segments, eg dual-fuel containerships or LPG tankers

Full report here