The last few weeks have been rough for the broader market but coal miner Geo Energy's stock price has stayed resilient, closing at 48 cents last Friday (13 May).

A little earlier, on April 28, it had gone ex-dividend with a nice payout of 5 cents a share as final dividend for FY2021.

The stock price of the Singapore-listed Indonesian miner has been buoyed by strong quarterly profits in 2021 -- a track record that continued into the latest quarter, 1Q2022, with a 42% jump y-o-y to US$40.5 million.



Production cash cost rose 58%.



Revenue was US$150 million (+33% y-o-y) boosted by a 60% jump in average selling prices.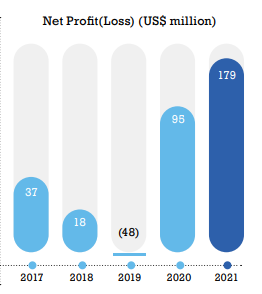 Higher profits in 2021 were driven by higher volume of coal sales and higher average selling prices.

That was not the case in 2020, although the chart on this page shows a US$95 million profit, as it was boosted by a large one-time gain on a repurchase of senior notes.

After a strong 2021 and the first quarter of this year, the Group's balance sheet is stronger than it has ever been in a long while with a high pile of cash and minimal debt:





Geo Energy, which has a policy of dishing out at least 30% of earnings as dividends, has emerged as a big payer of dividends with an amazing 9-cent payout for 2021 versus 0.8 cent for 2020:


| | | | | | |
| --- | --- | --- | --- | --- | --- |
| Full-year dividends | FY17 | FY18 | FY19 | FY20 | FY21 |
| SGD cent | 1 | 1.4 | 0 | 0.8 | 9 |

And instead of confining its payouts to once or twice a year, it has declared dividends for each of the last 5 quarters:


| | | | | | |
| --- | --- | --- | --- | --- | --- |
| Quarterly dividends | 1Q21 | 2Q21 | 3Q21 | 4Q21 | 1Q22 |
| SGD cent | 0.5 | 0.5 | 3 | 5 | 2 |

The 1Q2022 dividend of 2-cent/share is 51% of net earnings for the period and is 4X higher y-o-y, which is disproportionately higher given that net profit rose 42% y-o-y.

(Ex-dividend date: 23 May 2022.)

It should be noted that the 1Q2022 profit would have turned out substantially higher if not for:

• A temporary coal export ban imposed by the Indonesian government in January 2022.

As a result, Geo Energy said it had to adjust its delivery plan and delivered 2.4 million tonnes of coal for 1Q2022. In other words, it delivered a lower volume than the 3-million quarterly average expected from a 12-million tonne annual target.



• G

eo Energy's Domestic Market Obligations ("DMO") volume was 43% of the total volume it sold in 1Q2022. The percentage exceeds the annual 25% obligation.

As a result, its average selling price was pushed lower in 1Q2022 due to the price cap of around US$38 per tonne for coal sold domestically.

"By fulfilling a higher DMO volume in January and February, the Group would be able to capture the recent upsurge in export coal prices by increasing its exports in the coming months."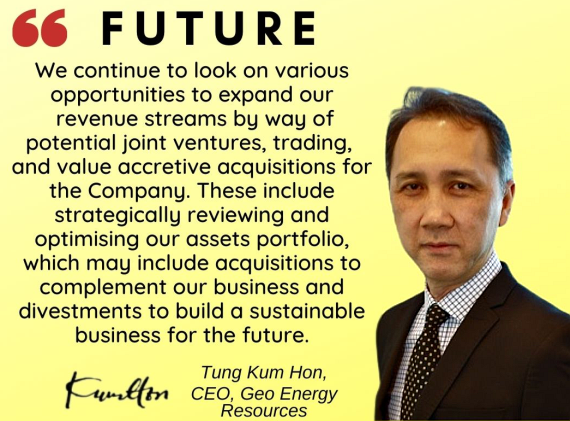 The profit outlook continues to be positive given an under-investment globally in coal exploration and production.

Coal demand from countries such as China and India has stayed high and is expected to remain so while supply continues to be constrained and disrupted.

The ICI4 futures, which reflect the price of the grade of coal that Geo Energy produces, currently hovers at US$95 per tonne for each of the remaining months of this year.

For more info, see the 1Q2022 results presentation deck here.