UOB KAYHIAN

LIM & TAN

REITs – Singapore

Defensive Posture To Weather Fluctuation In Interest Rates

The Fed has set stringent conditions to be fulfilled before commencing hikes in the Fed Funds Rates, which implies a time gap between QE taper and interest rate hikes. We estimate that every 0.1ppt increase in costs of debts will reduce DPU by 0.6-1.9%. S-REITs with high interest coverage ratios and long average maturity of debts are better able to cope with higher interest rates. Maintain OVERWEIGHT.

SIA Engineering ($2.14, up 4 cents) is pleased to announce that it has signed an agreement with Hawaiian Airlines to expand airframe maintenance services for its Airbus A330-200 fleet. SIAEC currently has existing airframe maintenance services agreements with Hawaiian Airlines for its A330 aircraft, covering heavy checks and paintings. Under the new agreement, SIAEC will be performing 12-year checks commencing in March 2022.

The maintenance services will be undertaken by SIAEC at its facility in Singapore. Hawaiian Airlines is Hawaii's biggest and longestserving airline. It currently off ers approximately 130 flights within the Hawaiian Islands, and services between Hawaii and 16 U.S. gateway cities as well as Tahiti, American Samoa, Japan and South Korea.

Mr Ng Chin Hwee, SIAEC Chief Executive Offi cer, said, "We are delighted to extend additional maintenance services to Hawaiian Airlines. The extension is a testament to the successful relationship between the two companies and demonstrates Hawaiian Airlines' vote of confi dence for our airframe maintenance services. With our strong technical expertise and vast maintenance experience, we are well positioned to provide quality services and engineering support for the airline's A330 fleet."

The transaction is not expected to have a material impact on the earnings per share or the net tangible assets per share of SIAEC for the financial year ending 31 March 2022. None of the Directors of SIAEC has any interest, direct or indirect, in the transaction.

SIA Engineering's market cap stands at S$2.4bln and currently trades at 58x forward PE and 1.6x PB. Consensus share price stands at $2.45, representing15% upside from current share price. Dividend was discontinued last year.

LIM & TAN

CGS CIMB

IREIT Global ($0.635, unchanged), announced that Sadena Real Estate, S.L.U., a wholly-owned subsidiary of IREIT, has on 23 September 2021 entered into a public deed of sale with Inmobiliaria Colonial, to acquire an offi ce building known as "Parc Cugat" located in Sant Cugat del Vallès, Barcelona, Spain and completed the Acquisition on the same day.

Parc Cugat is a modern Grade A freehold offi ce building with a gross leƩ able area of approximately 15,510 sqm and is located within a business park in Sant Cugat del Vallès. Currently leased to five large blue-chip companies, the Property has a commiƩ ed occupancy rate of 64.0%, a WALE by gross rental income ("GRI") of approximately 6.8 years and generates an annual GRI of approximately €1.5 million as at 23 September 2021.Pursuant to the terms of the Deed of Sale, the seller will provide rental guarantee for the vacant space on the ground floor for a period of approximately 15 months. The purchase consideration payable for Parc Cugat is €27.2million. This represents a discount of approximately 4.5% to the independent valuation of the Property with rental guarantee.

The Property has also enjoyed high occupancy rates historically until the ground floor became vacant in May 2020. With active asset management initiatives, the Manager believes there is room for potential upside by fi lling up and optimising the use of the vacant spaces. Furthermore, there is opportunity for positive rental reversions by bringing some of the underrented contracts to market levels. Since the acquisition of the four existing office properties in Spain in December 2019, the Manager has demonstrated that it has been able to increase the office occupancy rate of the Spanish porƞ olio from 89.2% to 93.5% as at 30 June 2021 and secure several lease extensions to uphold the stability of the Spanish porƞ olio, notwithstanding the challenging economic backdrop.

The total cost of the Acquisition is estimated to be approximately €29.1 million, comprising the purchase consideration, acquisition fee, estimated debt financing costs and professional and other fees and expenses. The Manager intends to finance the Total Acquisition Cost through a combination of external bank borrowings and internal cash resources. With the completion of the Acquisition, IREIT's portfolio now comprises five freehold offi ce properties in Germany, five freehold office properties in Spain and 27 freehold retail properties in France, with a portfolio valuation of €889.7 million (approximately S$1,408.4 million).

IREIT Global's market cap stands at S$732mln and currently trades at 25x forward PE and 0.8x PB with a dividend yield of 7%. Consensus share price stands at S$0.74, representing 16% upside from current share price.

SingTel

Bharti rights should not over-burden Singtel

■ Singtel will fully subscribe to its share of Bharti's rights issue for S$539m. The initial outlay is S$135m with the rest paid over two calls in three years.

■ This would have limited impact on Singtel's gearing but could reduce the size of potential special dividends (if any) from asset monetisation, in our view.

■ Reiterate Add. Our SOP-based target price is S$2.90.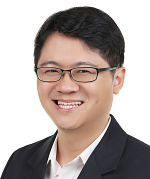 Check out our compilation of Target Prices