Yinda Infocomm signs agreements to acquire InterBio and invest in TECH5

Aim: To diversify into biometrics-driven identity management technology industry

• Proposed acquisition of 51% stake in InterBio for a total of S$35.0 million in cash and new shares

• Proposed investment in TECH5 through a loan of US$2.5 million convertible into equity in TECH5 and entry into preferential licensing agreement to integrate and distribute TECH5's biometric technology solutions

• Proposed acquisition and proposed investment, when completed, will be platforms for Yinda Infocomm's diversification into promising identity management biometric technology solutions business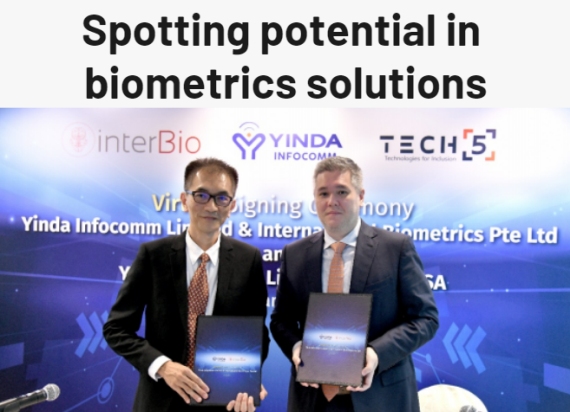 L-R: : Mr Gordon Tan, Executive Director of Yinda Infocomm and Mr Pierre Prunier, Director & Chief Strategy Officer of InterBio. Photo: Company

Yinda Infocomm, an integrated and innovative communications solutions and services provider in Southeast Asia, announced that it has signed a sale and purchase agreement ("SPA") with International Biometrics Pte Ltd for a proposed acquisition by the Company of 51.0% shareholding in the ordinary share capital in InterBio.

The aggregate purchase consideration is S$35.0 million.

The consideration will be satisfied through the issue and allotment of 143,333,000 ordinary shares of the Company at the issue price of S$0.15 per share and an aggregate cash amount of S$13.5 million to be paid in two tranches.

The proposed acquisition is subject to the satisfaction of various conditions, including obtaining the approval of the shareholders of the Company at an EGM to be held.

InterBio is a private limited company established in 2018 in Singapore and is a holding company of PT International Biometrics ("PT IBI") owning 99% of the share capital of PT IBI.

PT IBI is a identity management biometric software solutions company with strong execution experience, robust technology platforms and empowered with strategic technology partners.

Its platforms are based on core technologies licensed from strategic technology partners, including TECH5, like face, finger and iris biometrics listed in the top tier in NIST1 benchmarks.

PT IBI currently serves mainly ministries and government agencies and is looking to expand its coverage to medical insurance, healthcare, banking electronic payments, transport and telecommunication related applications in the commercial sector.

It registered a net profit after tax of S$1.9 million (based on the unaudited consolidated accounts) and S$2.9 million (based on the management accounts) for the financial year ended 31 December 2019 and year-to-date 30 November 2020, respectively.

Separately, the Company has agreed on extending a US$2.5 million term loan to TECH5, which is convertible into equity into TECH5 and a preferential licensing agreement with TECH5 that grants preferential licensing rights to the Company to integrate and distribute TECH5's biometric technology solutions exclusively in China and Japan, as well as non-exclusive distribution rights for TECH5's technologies worldwide.

Through this, the Group can acquire access to continued research and development in the latest identity management biometric technologies and allows the Group to penetrate the China and Japan markets using TECH5's technology by developing and rolling out identity management biometric technology solutions for those countries, either on its own or through working with local partners.

The investment into TECH5 remains subject to obtaining the approval of the shareholders of the Company at the EGM. Headquartered in Geneva, Switzerland, the technology company is founded by a team of seasoned industry professionals with more than 20 years of experience in the area of multimodal biometric matching solutions.

The team is dedicated to continuously invest in the research and development to take advantage of artificial intelligence in all biometric modalities. This resulted in TECH5's biometric algorithms being consistently ranked at the top in the NIST ranking. It focuses on highly scalable products built on the experience gained by the implementation of large deployments targeting both government and private sectors.

The identity management biometrics solutions provided by TECH5 can be applied to over 40 vertical markets, from National ID, to fintech, banking e-KYC, healthcare, education, and other areas.

This has led to the development of a ground-breaking solution for mobile identity which brings together the holder, the credential and the verifier in a way that traditional identity credentials cannot: a solution where, using TECH 5's unique set of biometric and compression techniques, alongside industry-standard encryption, an authorized phone can not only authenticate the credential being presented, but verify the it biometrically against the holder.

The global push in digital transformation has resulted in the increase in the implementation of biometrics even before the pandemic started, starting from the ubiquitous fingerprint recognition. With lockdowns and social distancing accelerating the use of digital services, there is real potential for this move to be a global game changer.

Further, the pandemic has also led to a global acceptance of contactless biometric technologies for personal identity verification. Multiple governments have also adopted contactless biometric technologies to prevent the spread of the virus and deliver public safety solutions. Thus, prospects of biometrics industry are expected to be promising with the rising demands, thereby creating remunerative opportunities for the biometrics players.

According to a report from Markets and Markets, the identity verification market is projected to grow from US$7.6 billion in 2020 to US$15.8 billion in 2025, representing a 15.6% compound annual growth rate ("CAGR") over the same period, with biometric technology solutions growing at a higher rate than non-biometric ones2 .

In particular, the biometric system market is expected to grow from US$36.6 billion in 2020 to US$68.6 billion by 2025, a CAGR of 13.4% over the forecast period. The major drivers include the increasing use of biometrics in consumer electronic devices for authentication and identification purposes, the growing need for surveillance and security with the heightened threat of terrorist attacks, and the surging adoption of biometric technology in automotive applications3 .


200 million in Indonesia
"The proposed acquisition of InterBio will allow the Group to ride on InterBio's current base of maintaining Indonesia's national identity database of more than 200 million enrollees as well as to support InterBio in building new inroads into the application of identity management biometric technology solutions in the burgeoning Indonesian market."
-- Gordon Tan
Mr Gordon Tan, Executive Director of Yinda Infocomm, commented, "Having identified the promising potential in the biometrics solutions segment of the identity verification market, the Group feels that it is a timely and strategic opportunity to enter into the proposed transactions.

"On the other hand, the TECH5 preferential licensing agreement will grant us access to the latest identity management biometric technologies from a global technology partner like TECH5. Taken together, the Proposed Transactions will provide the Group with a broad set of capabilities and partners, and infuse the Group with the critical and core ingredients necessary to build a credible and sustainable identity management biometric technology solutions business over the long term."


Mr Pierre Prunier, Chief Strategy Officer of InterBio, said, "Building upon this partnership with Yinda Infocomm, InterBio will be in a strengthened position for growth. The synergies between the two companies will enable the group to secure more projects not just in Indonesia but also in Asia and the rest of the world. Yinda Infocomm's license agreement with TECH5 will further enable us to venture into new exciting markets.

"Together, we will combine InterBio's biometrics platform and track record with Yinda's regional expertise in acquiring business to leverage on the growing trend of biometrics-based identity verification and digital ID. InterBio, as one of the few companies in the world that has successfully executed multi-modal biometric solutions in the public and private sectors, together with Yinda Infocomm, we will be able to compete for larger integrated projects more proactively and thus scale rapidly."

Mr. Machiel van der Harst (photo below), Co-Founder and CEO of TECH5, said "Yinda Infocomm's investment and trust put into our company is proof of our technology leadership and our growth prospects.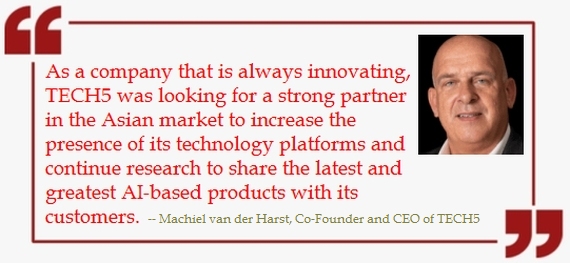 "We are also building on deep heritage in biometrics, applying experience and technology to a new, disruptive kind of Digital ID which, unique in the market, allows you to verify someone's identity biometrically in a totally offline manner, with or without a smartphone. We see synergies and leverage the strengths to take larger market share and are looking forward to work with the Company in markets like China and Japan."