PHILLIP SECURITIES

PHILLIP SECURITIES

Dasin Retail Trust

More AEIs to rejuvenate mall offering

SINGAPORE | REAL ESTATE (REIT) | 3Q20

 Recovery in consumer spending and revenue continued. 8.1% of FY20 lease expiries left for renewal.

 Termination of remaining 9-year 12,000sqm lease with department-store tenant reduces income visibility. But opportunity to recalibrate and enhance the mall's offerings.

 Upgrade to BUY from Accumulate. Catalysts expected from the population growth in the Greater Bay Area, potential acquisitions, and rental uplift post-AEI. DDM TP (cost of equity 8.12%) dips from S$0.91 to S$0.90 due to enlarged share base following fundraising.

Singapore Banking Monthly

Sentiment improved SINGAPORE | BANKING & FINANCE | UPDATE

 November interest rates remained at their lowest since 2014.  Loans shrank 2% YoY in October, reinforcing their weak outlook.

 Capital-market SDAV/DDAV grew 35%/11% YoY in November.

 Banks turned in soft 3Q20 results but reported greater asset-quality clarity. Improved credit outlook to pave the way for gradual earnings recovery.

 MAS announced four successful applicants for digital-banking licences. We do not expect any impact on banks' earnings until FY22 when the digital banks start to operate.

 Maintain NEUTRAL. Downgrade OCBC and UOB to NEUTRAL from ACCUMULATE on the back of slow earnings recovery in a low-interest-rate environment while allowances normalise. Our pick for the sector is UOB (UOB SP, Neutral, TP: S$21.10), whose lower SPs and better credit outlook may provide a faster earnings recovery in FY21.

CGS CIMB

CGS CIMB

SingTel

Singtel grabs digital banking licence

■ Grab-Singtel (60:40) consortium wins one of the DFB licences in Singapore.

■ Represents an expansion into a potentially profitable business in the long run, though we do not see major earnings impact for Singtel in FY21-24F.

■ Singtel's share of the capital requirements are manageable. Its dividendpaying capacity remains intact.

Singapore Airlines

Upside from upcoming Covid-19 vaccines


■ The roll-out of Covid-19 vaccines may boost SIA's cargo volumes, gradually restore pax travel and deliver fuel mark-to-market gains to the P&L and B/S.

■ For these reasons, we cut our loss estimates and raise our TP to S$4.91 on P/BV of 0.94x (mean since 2011) against the end-FY22F adjusted BVPS.

■ Reiterate Add as the positive newsflow momentum is just beginning.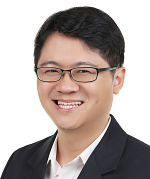 Check out our compilation of Target Prices