RHB

CGS CIMB

Offshore & Marine

Watch Out For More Restructuring; Stay O/W

 Keep OVERWEIGHT, as expectations of further restructuring will catalyse all three offshore & marine (O&M)-related stocks' prices. Top Pick: Keppel Corp (KEP), with Temasek's partial share offer as a precursor to restructuring and catalyst to share price upside. While KEP's O&M business should be weak over the next few quarters, the property wing could still drive profitability. Our next preference: Sembcorp Industries (SCI), which should emerge from the de-merger with Sembcorp Marine (SMM) without an O&M business and, thereafter, enjoy more stable earnings.

ARA LOGOS Logistics Trust

Shifting focus to growth

■ We see more earnings clarity and stronger focus on growth going forward.

■ Tapering supply and the partnership with LOGOS provide ALOG organic and inorganic growth opportunity.

■ Upgrade from Hold to Add. ALOG is trading at 1x P/BV, 1.5 s.d. below mean.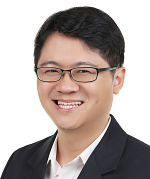 Check out our compilation of Target Prices