MAYBANK KIM ENG

RHB

Singapore REITs

Stronger Growth Amid Tighter Yields

DPU recovery; reiterate top picks S-REITs' strong 8.9% YTD outperformance – helped by benign interest rates against a deteriorating macro backdrop - continues to drive compressions in yields. Their yield spread of 2.7% to 10-year government bonds is testing 2018 lows, but positive supply-led fundamentals especially for industrial and hospitality should back stronger 2019-20 DPU growth. Meanwhile, potential rate cuts in 2H 2019 imply DPU upside. Investors with more conservative total-return thresholds could do well to revisit offshore REITs, trading at 5-12% DPU yields on 2-6% expected DPU growth. We adjust our sector bias towards industrial REITs, ahead of hospitality following recent DPU cuts. Our top picks are now AREIT, MINT, FCT, CDLHT and FEHT, based on their DPU recovery, yields and acquisition-growth upside.

Singapore Medical Group (SMG SP)

Buy On Dips; Upgrade To BUY

 Upgrade to BUY from Neutral, with unchanged DCF-based TP of SGD0.48, 26% upside. SMG's share price 10 May. The stock is currently trading at 14x P/E, a discount to its peer average of 23x P/E. We think that it is a good level to accumulate.

UOB KAYHIAN

CGS CIMB

Quantitative Analysis

Performance Tracker And Tactical Recommendation Post Trump's Tariff Tweet

Since the announcement of trade tariffs on China on 5 May 19, the FSSTI has declined by 7.3%. Banks, O&M stocks and Venture Corp led the declines, while the REITS outperformed. From a dividend yield and ROE perspective, DBS, OCBC and Venture Corp appear the most attractive. From a technical perspective, Sembcorp Marine, Sembcorp Industries, DBS and OCBC appear the most attractive. Our tactical recommendation suggests a switch out from the top 6 outperformers to financials and Venture Corp on a yield-neutral basis.

Property Devt & Invt

Stable 2H19 land sale programme

■ New residential supply from the 2H19 GLS programme is little changed from that of 1H19, at 6,430 units.

■ Ample medium-term supply is expected from the large influx of new completions over the next 2-3 years.

■ Maintain sector Overweight. Our top pick is UOL.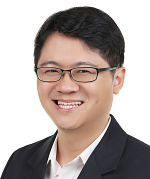 Check out our compilation of Target Prices