Excerpts from KGI Securities report

Analyst: Marc Tan


DISA

Share price:
0.5 c

Target:
2.0 c
♦ 1Q19 net losses declined to $2.3mn from $2.5mn in 1Q18 as growth in technology business continues.

♦ We re-iterate our BUY recommendation and maintain our fair value of $0.02 based on DCF valuation.


Growth in technology business continues. YoY, total revenue grew 110% to $99,000, driven by revenue from the sale of codes, which grew 200% to $87,000, making up 88% of total revenue.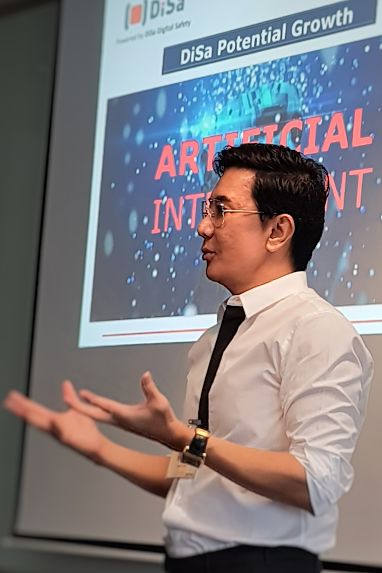 Eddie Chng, CEO of DISA, presenting at a KGI event.
NextInsight file photo.Total cost and expenses of the period declined 3.5% to $2.2mn as net losses improved to $2.3mn from S2.45mn in 1Q18.

While net losses declined, employee benefits expenses rose 11.3% to $1.3mn due to a higher number of outstanding share options.

As highlighted in our earlier reports, we believe this is an area where prudence should be warranted, especially if operating activities remains cash flow negative.

Net cash positions improved but cash burn continues. Net cash position grew to $19.1mn but high operating expenses continued to be a drag on performance. YoY, negative net operating cash flows improved to $1.5mn from $1.7mn.

Prior to the completion of proof-of-concept trials with other US retailers, we believe operating expenses will continue to be a drag on earnings.

Additional retailers' endorsements remain key to the company's growth prospects. In the coming quarters, we expect suppliers to continue adding more categories and new SKUs for DISA but more importantly, we will be expecting more updates' surrounding the endorsement of large US retailers other than Walmart as this is the primary assumption to our investment thesis.


Valuation & Action: We maintain our BUY recommendation with an unchanged TP of $0.02. Our target price implies a 9.7x 2021F EPS and is based on a DCF model assuming 14.4% WACC and terminal growth rate at 0%.

Risks: Failure to obtain the endorsement of additional US retailers, slow user adoption and a breach in DISA's encryption could lead to reputational damages and a decline in revenue. Going concern could become a problem if DISA fails to scale and cover its burn rate.


Full report here.