CGS CIMB

UOB KAYHIAN

Venture Corporation

Trade war suggests cautiousness

■ Venture reiterated that it was targeting growth in FY18 during our call with its investor relations (IR) manager last Friday.

■ At this juncture, Venture has not detected any changes in its customers' guidance or forecasts.

■ To be cautious and to factor in potential revenue headwinds, we pare down our revenue growth forecasts to the 7.3% average rate achieved by Venture in FY14-16.

■ We also lower our target P/E multiple to 12.3x and reduce our FY18-20F EPS forecasts by 8.7-14.5%.

■ Downgrade to Hold with a lower target price of S$17.83.

Singapore Press Holdings (SPH SP)

3QFY18: Waiting Expectantly For A Real Catalyst

3QFY18 core net profit of S$58m was within expectations. Headline earnings were higher yoy due to lower impairments and divestments gains. SPH's Media business continued to see advertising and circulation revenue falling, albeit at a slower rate. Property earnings were largely stable, dragged by lower rental reversion at Paragon. Our net profit forecast remains unchanged for FY18; FY19-20 estimates were raised by 2%. Maintain HOLD with a higher target price of S$2.58. Entry price: S$2.40.

MAYBANK KIM ENG

OCBC SECURITIES

GuocoLand (GUOL SP)

Acquires Casa Meyfort

Raises SG residential exposure; Maintain HOLD

GuocoLand raised its exposure to the Singapore residential market with the acquisition of Casa Meyfort. With contributions from this project offset by lower market value of GuocoLand Malaysia, we lower our RNAV estimates marginally to SGD3.64 and retain our SGD2.00 TP, based on an unchanged RNAV discount of 45%. While the stock's valuation is not expensive, we expect the recently implemented policy tightening to weigh on sentiment for the sector. Maintain HOLD. Prefer UOL for sector exposure.

DBS: Eyes still on the ball

Last week's property cooling measures have weighed on property and banking stocks, but less for the latter. Based on 1Q18, housing loans accounted for 22% of DBS's loans book versus 26% for OCBC and 28% for UOB. During the previous cooling measures, property stocks took a significantly longer period to recover, while banks were able to derive growth from other areas which helped to lessen the impact and resulted in share price outperformance. We believe DBS deserves a higher premium than its regional peers. We lowered our valuation to 1.7x book (in line with the decline in regional peers from 1.6x to 1.5x), dropping our fair value from S$34.60 to S$32.67. At current price, dividend yield is 4.6%. Maintain BUY.

RHB SECURITIES

Thai Beverage

Bright Long Term Prospects

Maintain BUY and a new SGD1.02 TP from SGD1.06, with 40% upside. We remain positive on ThaiBev's medium-term prospects despite near-term softening of demand. With consumer confidence at a 40-month high, we expect premiumisation in alcohol consumption to be realised in 2-3 years. This is in conjunction with efforts to introduce higher-value products like Ruang Khao Silver, Blend 285 Signature and Federbrau. New products like Kulov Max Seven and Star Cooler are also expected to bring higher margins and reach out to a wider consumer base.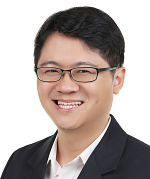 Check out our compilation of Target Prices