Shareholders of AEM Holdings should find interesting certain content released today regarding AEM's peer, Cohu Inc, which is listed on Nasdaq.

1). Today (Sept 19), Cohu was upgraded by Needham & Company from Hold to Buy with a US$24 price target.

What's notable is that this upgrade came after Cohu had risen about 67% in the year-to-date. Cohu closed recently at US$23.27.


| | | |
| --- | --- | --- |
| | AEM | Cohu |
| Stock price | S$2.37 | US$23.27 |
| PE (2017F) | 7.7 | 15.1 |
| Target price | $3.34 | US$24 |
| Market cap | S$154 m | US$651 m |
2. Today (Sept 19), Cohu published an investor presentation on its 1H2017 results.

Page 12 of the presentation gave an analysts' consensus estimate for Cohu's full-year 2017 earnings per share: US$1.54.

That translates into a PE of 15.1 based on a recent share price of US$23.27.

On that basis, Cohu is trading at about twice as high a valuation as AEM.

AEM currently trades at $2.37, or a PE of 7.7X, based on CIMB's forecast of 31 cents a share in earnings for 2017.

In terms of market cap, Cohu is about 5.7X bigger at US$651 million while AEM's market cap is S$154 million (or US$114 million).

In terms of stock performance, AEM has done a lot better, as the market recognised its first year of ramp-up in production of its new test handler equipment for a global chip company.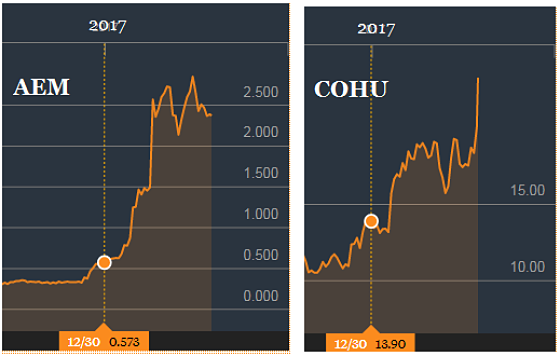 AEM: Has shot up 313% in the year to date, while Cohu, 67%.
Charts: Bloomberg.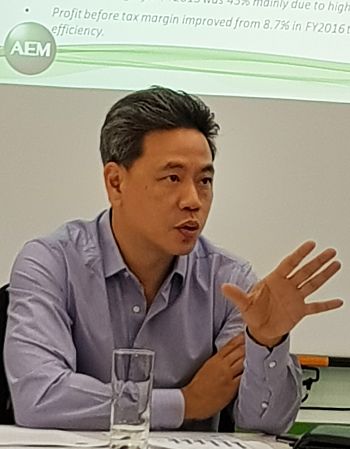 Loke Wai San, non-executive chairman of AEM Holdings. NextInsight photoAEM and Cohu have a major customer in common. AEM has not stated its identity but everyone knows it is Intel Corp.

Over four years, Intel and AEM co-developed test handling equipment that saves significant costs for Intel.

It consolidates all three stages of test into a single modular machine. With this, AEM is aiming to displace legacy machines at Intel and win market share.

Intel is believed to be moving towards replacing all its test-handling equipment with AEM's.

CIMB, in a report on 8 March 2017, raised an interesting (but purely speculative) scenario: "Should this customer decide to switch all its future needs to the current test handler being produced by AEM, there could be a case for Cohu to consider an acquisition of AEM to keep its test handler business with the same customer."

Cohu has the firepower and the strategic direction for something like that:

♦ It projected that its net cash would rise to US$140 million by the end of this year. (See page 16 of its presentation material).

♦ On page 17 of its presentation, one of its mid-term targets is: "Strategic acquisitions in profitable, complementary markets leveraging infrastructure and delivering synergies."