CIMB

UOB KAYHIAN

Riverstone Holdings

2Q17 broadly in line

■ 2Q17 net profit was broadly in line with our expectations at 20% of our full-year forecast. Historically, Riverstone's 2H tends to be stronger on capacity additions.

■ 2Q17 revenue grew 36.1% yoy driven by continued strong demand.

■ Capacity expansion plan (backed by customer demand) has again been raised. Total capacity is slated to reach 10.4bn pieces of gloves by FY19 vs. 10.0bn previously.

■ We lift our FY17-19F EPS by 8.4-19.0% to factor in the new capacity expansion plan.

■ Maintain Add with a higher TP of S$1.20 based on 16.3x FY18F P/E (sector average excluding Hartalega).

Banking – Singapore

2Q17 Round-up: Keeping Up The Good Work

OCBC and UOB continue to beat expectations. NIM is on an upward trend, trade loans have recovered and contributions from wealth management are marching higher. Headwinds from the oil & gas sector are receding. Dividend policies could be reviewed once new capital requirements from Basel 4 are finalised. Maintain OVERWEIGHT. BUY OCBC (Target: S$13.38) and DBS (Target: S$24.85).

PHILLIP SECURITIES

Sembcorp Industries Ltd

Singapore shines while India dims

SINGAPORE | CONGLOMERATE | 2Q17 RESULTS

 1H17 revenue and net profit were in line with our expectation.

 Singapore utilities performed better than expected but was offset by weak India and marine operations.

 We maintain our call ACCUMULATE with an unchanged TP of S$3.5, based on sum-ofthe-parts method.

RHB

Sector Outlook For 2H17 Is Still Positive

As of May, Singapore's manufacturing output rose 5% YoY, mainly due to a 35.1% YoY increase in the electronics cluster's output and strong export demand for semiconductor-related equipment. For 2H17, the trend would likely continue, due to a few major product launches slated for 2H17, as well as in preparation for the festive Christmas season sales. Our Top Picks across Singapore's tech sector are still Venture, Avi-Tech and Jadason.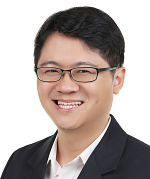 Check out our compilation of Target Prices