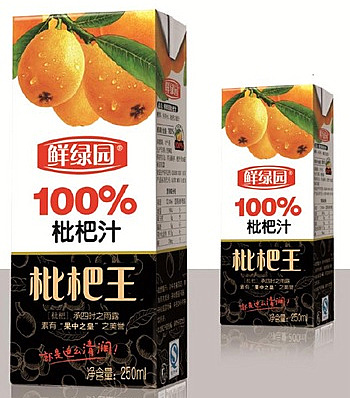 Loquats are said to have therapeutic effects on the throat and lungs.
Photo: CompanyGARDEN FRESH's beverages are the star performer of the Sino Grandness Group, accounting for two-thirds of its RMB 2.3 billion sales in the first 9 months of 2014.

Canned vegetables for export and canned fruits for China's domestic market made up the rest of the sales.

Garden Fresh's loquat-based drinks have surged in popularity in China despite the beverage business being highly competitive and many brands come and go.

Prior to introducing loquat drinks in 2010, Sino Grandness tried to push out its herbal drinks and mixed vegetable/fruit drinks but did not make sustainable headway.

Here, we raise questions on a range of topics that investors are keen to have insights into. The company's replies are as follows:

» Supermarket chains
1) How did you come up with the idea of producing beverages from loquats?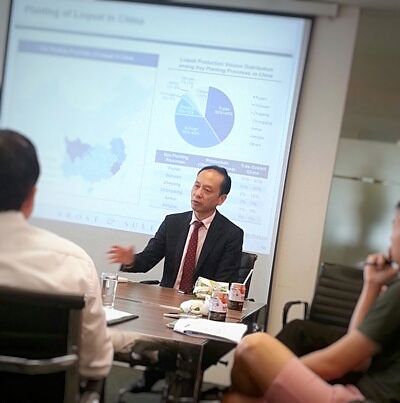 Huang Yupeng, chairman & CEO of Sino Grandness.
NextInsight file photoA: Our company's product positioning was to introduce mid to high juice content and unique fruit juices targeting increasingly health conscious consumers in China.
Having launched various mixed vegetables and fruit juices initially containing tropical fruits as well as hawthorn fruit, our product development team was looking for other unique fruits in order to enlarge our product offering.

Coincidentally, our first juice processing plant is located in Sichuan province which is one of the largest plantation bases for loquat fruits in China.

Our product development team realised that loquat fruits have a long history in China and are widely accepted by consumers as they have been used in the production of traditional Chinese medicinal products to soothe the throat or lungs. Yet, no company was actively promoting loquat fruit juice in China 5 years ago.

Those were the key reasons our management team decided to build a new range of juices based on loquats, and capitalise on the lack of major competitors and our plant's strategic location near supply sources.
2) Why did supermarket chains such as Walmart and Carrefour in Shenzhen accept loquat beverages for sale shortly after the beverages were introduced to the market in 2010 before the drinks had proved their popularity in mom & pop shops? What were their criteria?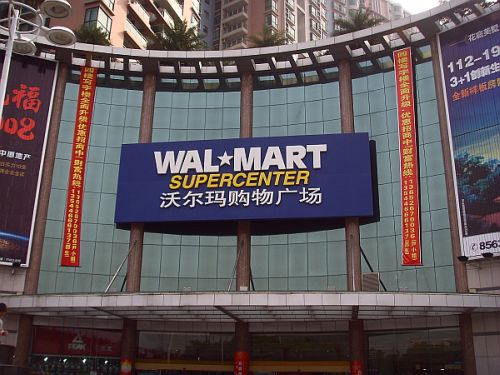 Loquat drinks by Garden Fresh are available in Walmart supermarkets in China. Photo: InternetA: We believe our loquat juice was quickly accepted by major supermarkets due to :

1) No direct competing product at that time
2) The taste is acceptable to consumers
3) Our company is listed and have strong resources to invest in brand building and product development
4) The retail price point is acceptable and yet give good margins to all parties
3) I understand that by now, Walmart and Carrefour outlets in other provinces are selling loquat drinks too. Can you identify them and reveal the number of outlets?
A: In our business model, we do not sell directly to retail points but mainly depend on distributors to help us manage the logistics and gain access to retail points. We do not manage the retail points directly.
Sales of Garden Fresh products in FY2013 were approximately RMB1.39 billion. This figure is relatively small compared to other major F&B companies in China with sales exceeding RMB5 billion or even RMB10 billion.

Our product penetration in China still have ample room to grow as we currently only sell to selected channels and selected provinces. The top 5 provinces in terms of sales contribution for Garden Fresh in FY13 were Guangdong, Heilongjiang, Zhejiang, Sichuan and Shaanxi.
Over the past 2 years, apart from expanding our modern channel retail points -- ie major supermarkets and convenience stores -- we have also been actively expanding into traditional channels such as F&B outlets and mom-and-pop shops.
According to estimates given by our distributors, our products are presently sold across more than 200,000 retail points in China. We believe we are on the right track in terms of maintaining our growth momentum.
» Entry into Hong Kong
1) A recent development that has caught investors' attention is Garden Fresh's entry into Hong Kong. The distributor is Hin Sang Group which is listed in Hong Kong, and the sales points are 200-odd Wellcome supermarkets and 400-odd 7-Eleven convenience stores belonging to Jardine Matheson.
Are Garden Fresh products already selling well in Hong Kong?
A: We are not expecting significant sales from HK market in the near term because :
This is a new market which we have just entered and it will take time for our distributor to roll out our products. Right now, our juices are sold in selected Wellcome stores and have not penetrated 7-11 stores yet.

HK is a mature and competitive market with many global brands investing heavily in advertising and promotional (A&P) activities. It will take time and resources for us to grow our presence in this market.
The immediate benefit of selling in HK market is a higher profile for our products within the China market. Chinese consumers tend to view favourably any China products which are sold in major cities outside of mainland China as an endorsement of the product quality.

» Convenience stores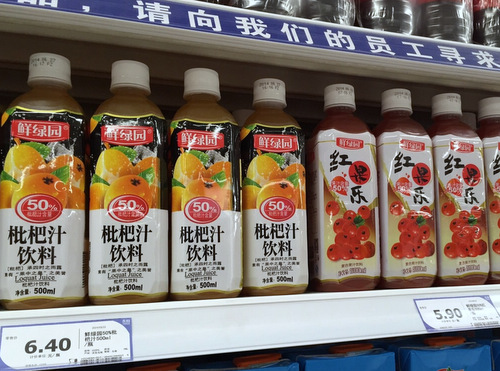 In convenience stores, only fast-moving products are allowed space on the shelves. NextInsight file photo
1) Garden Fresh products are now being sold in convenience stores such as 7-Eleven in Guangdong, with 600-odd stores, and Hongqi, with 1,400 stores in Sichuan province.

Because of limited space, convenience stores carry only popular items. Garden Fresh got into 7-Eleven in 2012. In that year, its sales were RMB 865m only. What obstacles were faced in getting the convenience store chain to sell your products?

A: You are right. Convenience stores in China usually carry a selected product range for any brand due to limited store space. As such, our distributors would usually discuss with our marketing team in terms of rotating different products into the stores during different times of the year in response to consumer preferences for different products during different seasons. Usually when the weather is warm, consumers prefer more diluted drinks, so we tend to market more mixed loquat juices with lower juice concentration then.


» Eating outlets
1) I understand that Garden Fresh is paying attention to eating outlets (especially restaurants) and in some of them, Garden Fresh is the only fruit juice brand on order. What proportion of Garden Fresh sales comes from eating outlets?
A: Our distributors are in charge of expanding two primary channels namely modern and traditional channels. F&B outlets are part of traditional channels which also include mom-and-pop shops. Although we do not manage the retail channels directly, we estimate that more than 60% of our retail channels now come from traditional channels.


» Distributors
1) Garden Fresh now has 230 distributors. What is the relationship between the company, the distributors and the supermarket chains?
A: We mainly depend on distributors who help us to manage inventory, logistics and distribution into various retail channels. As such, distributors are our direct customers. However, we do not engage provincial exclusive distributors as we believe such an arrangement may result in the company becoming overly dependent on a small group of distributors.

Instead, we engage channel distributors to be in charge of certain channels in each province. Although we will have to set up a relatively bigger sales and marketing team to manage the larger distributor base, we believe this model significantly reduces customer concentration risk. Our top Garden Fresh distributor accounted for less than 4% of total beverage sales in FY13.
2) So, Sino Grandness does not sell directly to major supermarket chains?
A: No, we do not sell direct.
3) Sino Grandness has reported negligible impairment of its trade receivables. How does the company exercise tight credit control?

A: We increase credit terms and credit limits to customers based on the duration of their relationship with our company. The longer and the better payment record, then we give them longer credit terms. And we usually do proper background checks of the distributors before we commence business relationships with them. We usually prefer to work with distributors who are also in-charge of many other F&B products and with a relatively long and stable business track record. This background checking is usually done by our senior sales managers, many of whom have worked in other major F&B companies for more than 10 years and have dealt with such distributors before.

Part 2:SINO GRANDNESS: Insights into marketing, Thai investors, IPO, etc
Recent story: @ SINO GRANDNESS' EGM: How The Company Plans To Continue To Thrive